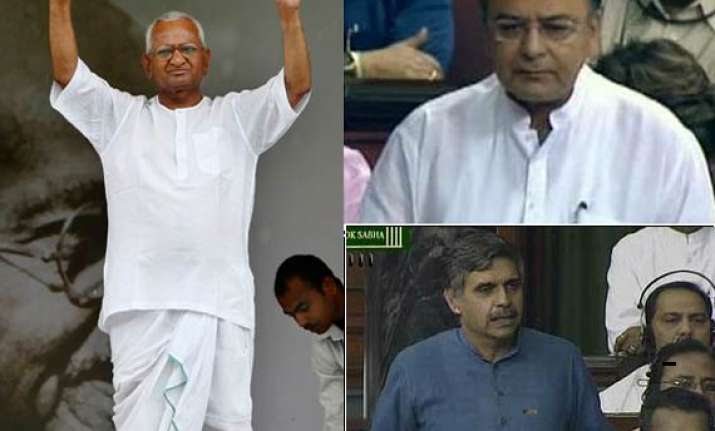 New Delhi, Aug 27: Parliament today unanimously  adopted the "Sense of the House" resolution on three key issues raised by Anna Hazare.

The resolution, moved by Finance Minister Pranab Mukherjee, was first adopted by the Lok Sabha by thumping of desks. Later, the Rajya Sabha adopted the move.

The "Sense of the House"  was later conveyed to  Hazare  through a letter from the Prime Minister, which was handed over by Union Minister Vilasrao Deshmukh  at Ramlila Maidan, where Deshmukh read out the letter to Anna supporters.

The "Sense of the House" resolution moved by  Mukherjee reads: "This House agrees 'in principle' on following issues — (i) Citizen's Charter, (ii) lower bureaucracy under Lokpal through an appropriate mechanism, and (iii) establishment of Lokayukta in the States;




And further resolves to forward the proceedings of the House to the Standing Committee on Law and Justice while finalising its report."

Earlier, the government and the Opposition reached an agreement under which the Parliament will adopt a resolution incorporating the three demands of Team Anna.

The turnaround came when the Bharatiya Janata Party heard Team Anna member Arvind Kejriwal announce at the Ramlila grounds that the government had conveyed to them the Opposition's reluctance to vote on a resolution in Parliament on the Lokpal issue.

National Democratic Alliance working president L.K. Advani, Leader of the Opposition in the Lok Sabha Sushma Swaraj and her counterpart in the Rajya Sahba Arun Jaitley took the matter to Prime Minister Manmohan Singh and Finance Minister Pranab Mukherjee.

Sources said  Mukherjee and Union Law Minister Salman Kurshid denied that the government had made any such charge.

When the BJP insisted that in the changed circumstances, a resolution should be moved and put to a voice vote, the government agreed to it. Some young Ministers and MPs from the Congress also insisted on a resolution and vote as they felt Team Anna will not settle for anything less.