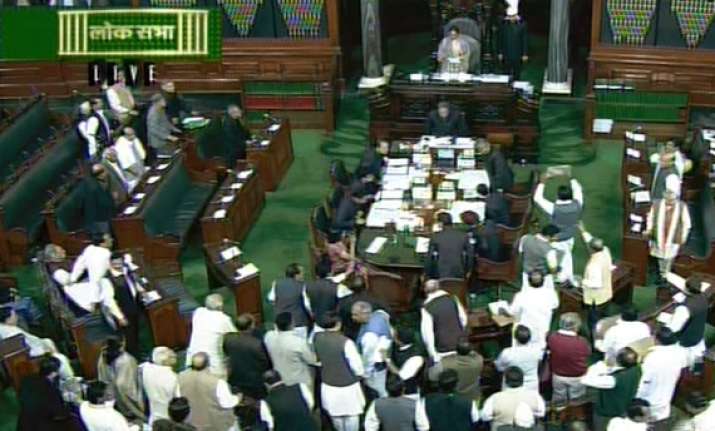 New Delhi, Dec 28: A much delayed bill which provides for a mechanism for investigation against judges was taken up for consideration in the Lok Sabha amid demands that it should be withdrawn and amended to give it more teeth. 

The Judicial Standards and Accountability Bill, 2010, which was introduced in December, 2010 has now been brought with fresh amendments, including one which seeks to restrain judges from making "unwarranted comments" against conduct of any Constitutional authority.

The House also took up another Bill for consideration which seeks to increase the retirement age of High Court judges from the present 62 years to 65 years, bringing it on par with the retirement age of Supreme Court judges. 

It is a Constitutional Amendment Bill which seeks to amend Articles 217 and 224 of the Constitution to increase the retirement age.

Moving the Judicial Standards and Accountability Bill for consideration and passage, Law Minister Salman Khurshid said the legislation seeks to set up a mechanism to inquire into complaints against a judge of the Supreme Court or the High Court - a matter, he said, was dear to the heart of MPs. 

The Bill seeks to repeal the Judges Inquiry Act, 1968 but retain some of its key features like power to Parliament to impeach a judge of the Supreme Court or the High Courts, Khurshid said.

Initiating the debate, D B Chandre Gowda (BJP) said the Bill was "opaque" and inadequate to address the issue and needed a "relook".

Chandre Gowda said the creation of National Judicial Commission was an "utmost necessity" of the day to look into the appointment of judges.

His demand was supported by Manish Tewari (Cong) who said the present bill may not be the "only solution" and there was a need to have a look at the issue of appointment and transfer of judges of Supreme Court and the 21 High Courts. 

Chandre Gowda claimed the composition of the Investigation Committee was not clear and maintained that the panel should keep in mind the reputation of the judge in question and the high office he occupies.

Tewari said the bill should be passed rising above partisan politics as there was a "rare unanimity" to have judicial standards and architecture of accountability in the judiciary.

Referring to the passage of the impeachment motion in the Rajya Sabha against Calcutta High Court Judge, Justice Soumitra Sen, he said in the past 64 year, the country has witnessed only "half an impeachment" and the Bill seeks to find a path between appointment and impeachment of a judge. 

He said the bill also helps in establishing a constitutional "equilibrium" between the Judiciary, the Executive and the Legislature based on the doctrine of separation of power.

He maintained that while judicial activism was good, judicial overreach could create problems.  Raising his points in English, he said the judiciary understands the language better and they would be watching the proceedings of the House.