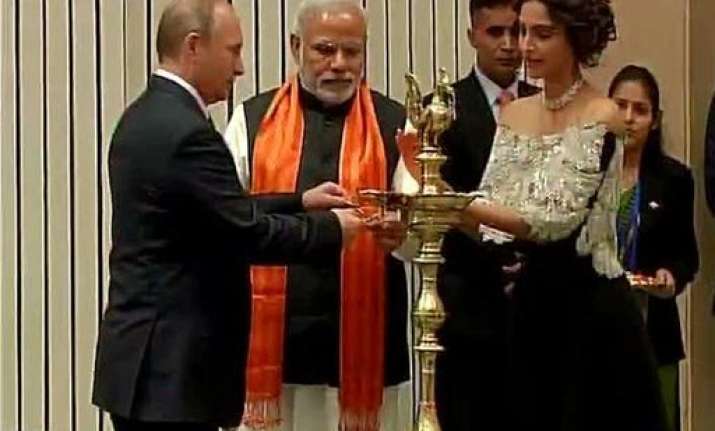 New Delhi: Prime Minister Narendra Modi and Russian President Vladimir Putin today jointly inaugurated 'World Diamond Conference' at Vigyan Bhawan in New Delhi.
Here we are giving you live updates of Vladimir Putin's India visit:
8:30 pm: President Pranab Mukherjee hosts reception for President of Russia Vladimir Putin at Rashtrapati Bhawan. PM Narendra Modi, Congress President Sonia Gandhi, LK Advani and former PM Manmohan Singh attend the reception.
6:00pm- PM Narendra Modi & Russian President Vladimir Putin meet CEOs of leading industries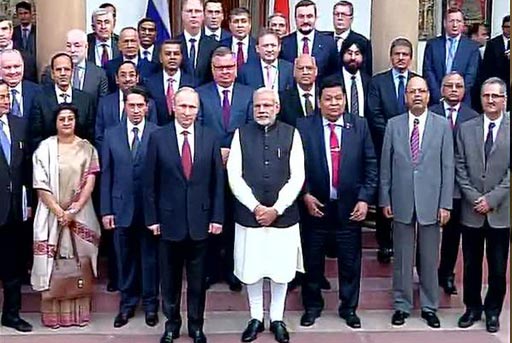 5:22pm- Modi:President Putin's enthusiasm for Russia participating in "Make In India" campaign will help expand manufacturing & create jobs for our people.
5:18pm- Modi:Diamond has become universal symbol of wealth. In India it is also a great source of employment for our people. India and Russia have outstanding cooperation in a broad range of areas.
5:15pm- Modi: We are especially pleased that President Putin is here for the World Diamond Conference.India is a natural venue for this conference, it is believed diamond is India's gift to the world
5:00pm- Modi and Putin inaugurate 'World Diamond Conference' at Vigyan Bhawan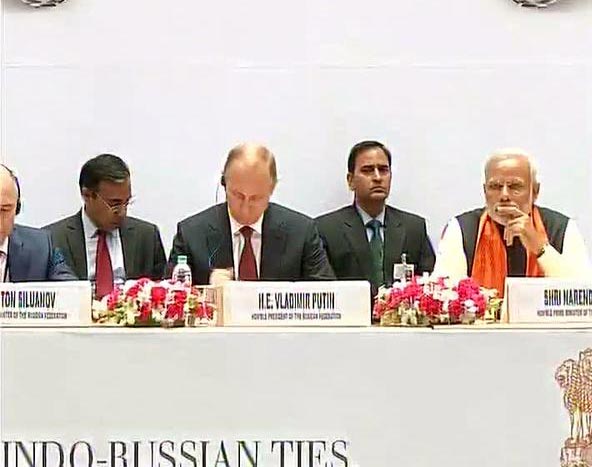 3:51pm- Russian President Vladimir Putin concludes his address
3:49pm-Putin: India Russia can work together on tackling terrorism
3:48pm-Putin: Will help India build at least 20 new nuclear reactors
3:47pm- Putin: The two countries placed emphasis on trade and economic issues
3:46pm- Putin: We are content with how the visit is being conducted and the outcome of the visit
3:45pm- Russian President Vladimir Putin begins his speech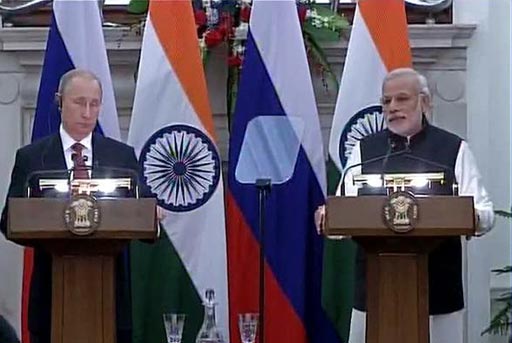 3:44pm- Modi ends his address
3:43pm- Modi:This is President Putin's 11th annual summit and my 1st. I am confident that our bilateral cooperation will acquire new vigour
3:42pm- Modi:Today we have taken a number of decisions and signed several agreements
3:41pm- Modi: Outlined an ambitious vision for nuclear energy. Will have highest standards of safety in the world
3:40pm- Modi: Energy security is critical, for India's economic development and creating jobs. Russia is also a key partner in this area
3:39pm- Modi: Russia will remain our most important defence partner. We conducted joint exercises across all 3 wings in last 6 months
3:38pm- Modi:Both countries will grow further in future. Russia our foremost defence partner since decades
3:37pm- Modi:  We have a strategic partnership that is incomparable
3:36pm- Modi: President Putin and PM Vajpayee launched the annual summit process in 2000
3:35pm- Modi: It is truly a great pleasure to welcome President Putin to India
3:34pm- Narendra Modi begins his address to media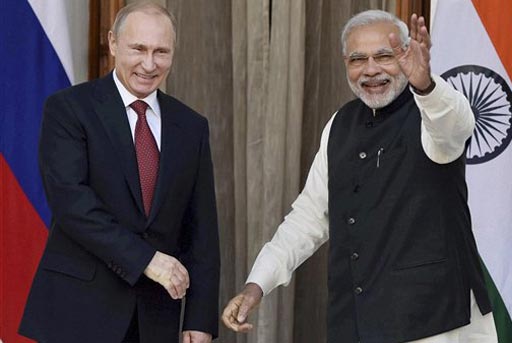 3:33pm- Narendra Modi and Vladimir Putin arrive for joint press conference
3:15pm- India-Russia Summit ends, tweets Syed Akbarrudin.Leaders to address media soon.
3:13pm- India-Russia discuss potential for bilateral cooperation in outer space to advance societal applications, tweets Syed Akbarrudin
3:00pm- India-Russia discuss collaboration between companies in oil & gas exploration & production as well as in LNG projects & supplies, tweets Syed Akbarrudin
2:48pm- India agrees to expeditiously identify a 2nd site, in addition to Kudankulam, for Russian-designed nuclear power units in India,tweets Syed Akbarrudin
2:45pm- At Summit India-Russia agree on Strategic Vision to strengthen cooperation in peaceful uses of Atomic Energy,tweets Syed Akbarrudin
11:45am- Putin meets Modi at Hyderabad House