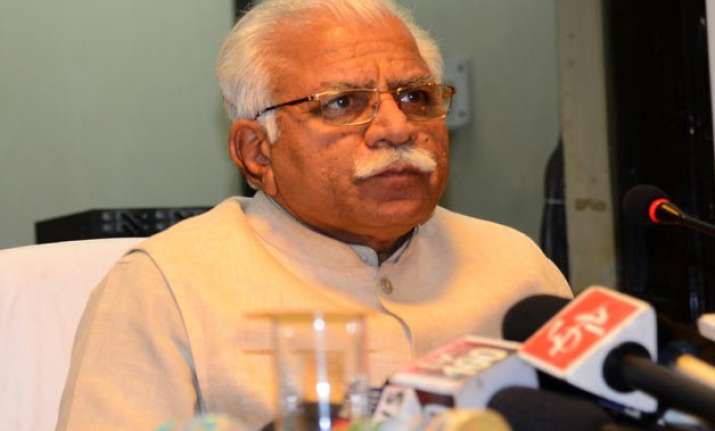 New Delhi: Haryana Chief Minister Manohar Lal Khattar today demanded a separate high court for his state and central assistance to the tune of Rs 541 crore for augmenting judicial infrastructure.
Speaking at the joint conference of Chief Ministers and High Court Chief Justices, he suggested judicial proceedings of higher courts should be webcast or telecast live.  
Khattar also said efforts be made to facilitate high court proceedings in Hindi in Hindi-speaking states, and in regional languages in non-Hindi speaking states while the judgements could be recorded in English until alternate arrangements are in place.
Seeking a separate High Court for Haryana, Khattar said Article 214 of the Constitution provided for a High Court for each state. "We are of the view that a separate high court for Haryana can very conveniently be set up on the premises of the Punjab & Haryana High Court by bifurcating the building, staff and other infrastructure on the same lines as was done in the case of Legislative Assembly and Civil Secretariat", he said.  
The Haryana Assembly had in the past passed resolutions for creation of a separate High Court and requested the Centre to carry out necessary amendments in the relevant statutes.  Khattar also advocated for an additional bench of Punjab and Haryana High Court in southern-western Haryana, saying poor litigants from some of these far-off areas find it difficult to pursue cases in Chandigarh.  
He said his government had taken a number of steps for development of judicial infrastructure and provision of adequate manpower to enable the subordinate judiciary to function effectively and "for this purpose, we need an additional central assistance to the tune of Rs 541 crore".  
The initial projected requirement of funds under the 12th Plan was only Rs 77.79 crore with a central share of Rs 58.34 crore, he said and added it was too less for meeting the current and future requirements for construction of court complexes and residential houses for judicial officers, according to an official statement.
The Chief Minister said total pendency of cases before the Punjab and Haryana High Court was 2,79,699, of which over 1.4 lakh cases were from Haryana.