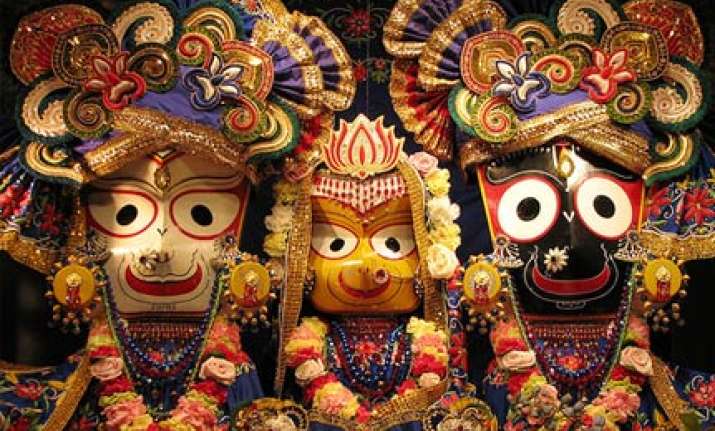 Lord Jagannath of Puri will soon enter the list of rich deities of the country. The lord's bank deposits are expected to touch Rs150 crore by the end of financial year 2010-11, says a report in DNA.
The increase in income is attributed to the financial prudence drive that the temple authorities undertook around seven years back. The temple's collections at that time were not as organised. The restructuring has worked wonders. The temple's coffers have ever since been growing by leaps and bounds every year.
Donations form a major chunk of earnings in some of India's super-rich temples. Devotees donate lakhs to shrines such as Tirupati in Andhra and Vaishno Devi in Jammu. But, because Jagannath is the god of poor, the Puri temple allows devotees to have a darshan without paying a single paisa.
Then, where does so much money come from?
Typically, the Lord's income comprises of interest from bank deposits [currently Rs130 crore], auction of shops in the temple premises, and sale of land that belongs to the temple trust, Ashok Meena, chief administrator of Shree Jagannath Temple, said.
"We are almost certain of achieving this [Rs150 crore bank deposits]," Meena said. He said Rs100 crore would be added to the temple's kitty in the next three years. The temple will thus have Rs250 crore in its accounts by 2013!
Meena said Lord Jagannath is expected to earn nearly Rs45.10 crore in 2010-11, out of which Rs 28 crore would be spent on various things.
Many devotees had left their lands in the name of the lord as a last wish. Attempts are being made to recover those lands. The temple is trying to regularise nearly 60,000 acres of such land it owns across Orissa and other states. The temple has 56,700 acres of land in Orissa alone. It has also located lands in Maharashtra, West Bengal and other states.
"We are in touch with the respective governments to get back those lands. The lands would be sold and money earned from them would be fixed in the lord's name," Meena said.
All district collectors in Orissa have been asked to initiate steps to recover lands belonging to the lord.
Some of the lands have been encroached upon. The temple is contemplating of registering such lands in the name of their encroachers by collecting their exact value from them. By doing so, the temple will earn around Rs5 crore in the coming years, officials said.
In order to further increase the lord's income, hundis [donation boxes] would be set up across Orissa. Apart from the bank deposits, the temple also has a huge collection of gold ornaments, diamonds and other jewellery in its possession. "We have not valued their market price. Faith forbids us to do so," Meena said.  
Lord Jagannath's Yearly bank deposits:  
2005-06 : Rs 54.70 crore
2006-07:  Rs 68.27 crore
2007-08: Rs 102 crore
2008-09 : Rs 118 crore
2009-10: Rs 130 crore