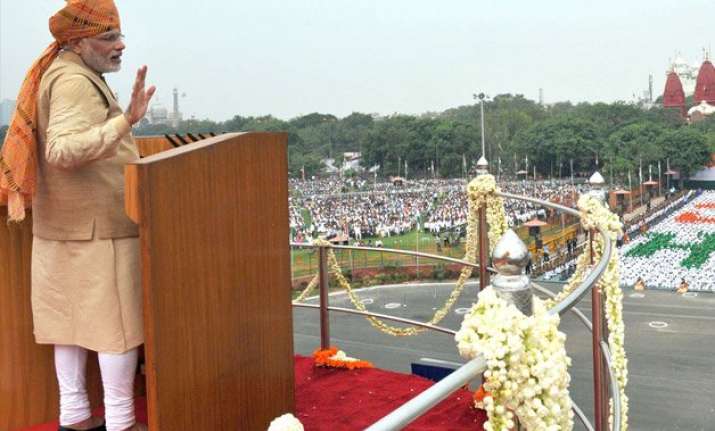 New Delhi: India is celebrating its 69th Independence Day today.
Independence Day has great significance because it reminds the people of the unity and diversity of India. It is the day when India became free from the British Rule after 200 years of slavery.
India is also a land of different religions which are characterised by various religious practices and beliefs with more than one billion people.
Highlights:
* PM Modi concludes his speech
* There should be momentum created for achievement of goals by 2022.When we celebrated 75th anniversary of freedom we shd achieve targets: PM Modi
* This government agrees in principle with OROP we are moving forward with negotiations : PM Modi
* The way the talks are going on I am expecting something positive: PM on OROP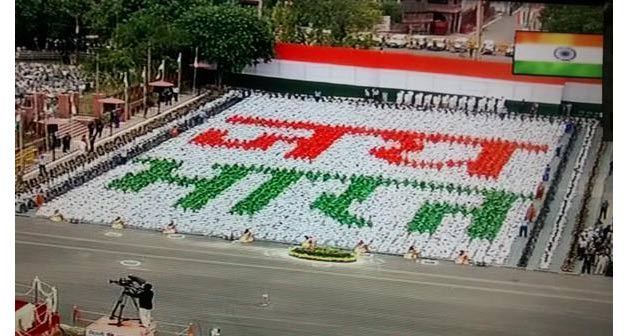 * I assure the servicemen and I am saying it under the Tricolour from the Red Fort- we have accepted OROP. Some talks are still on: PM Modi
* The issue of 'One Rank One Pension' came up in front on every government. Some even made small promises. Issue could not be solved: PM Modi
* Why does somebody have to seek 'Seefarish' when a job is sought. It is not proper: PM Modi
* Every bank should ensure that its every branch must give loan for start ups to atleast one Dalit or tribal: PM Modi
* We are looking at systems for enabling start-ups. We must be Number 1 in start-ups. 'Start-up India' & 'Stand up India': PM Modi
* We affirm our commitment to provide electricity to all those villages that do not have electricity: PM Modi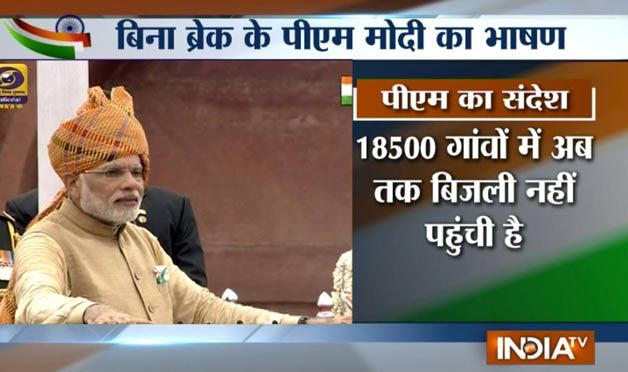 * Even after so many decades of Independence there are 18,500 villages in India which do not have electricity: PM Modi
* India cannot develop till the eastern part of India develops: PM Modi
* We will be a strong nation only when our eastern region is also strong, we are installing gas pipelines and improving rail network: PM Modi
* Government committed to provide urea to famrers: PM Modi
* We need to increase agricultural productivity. Save water, save energy, save fertilizers should be our motto: PM Modi
* Black money law....stringent provisions will not be diluted despite pressures: PM Modi
* Rs 6500 crores disclosed under compliance window of black money & foreign assets law: PM Modi
* When the illness is dangerous, an injection is given, there could be side effects. But this is the cure: PM Modi on black money Law
* This 125 crore team India wants transparency: PM Modi
* On the issue of black money we took a lot of steps within such a short time, we formed a SIT under SC's guidance the day we took over: PM Modi
* Has been 15 months now since we formed government, no accusation of corruption of even Re 1: PM Modi
* This 1.25 crore team India wants transparency: PM Modi
* Today If I talk about Coal auction, political pundits will see it from the political lens. But I request them not to politicise this: PM Modi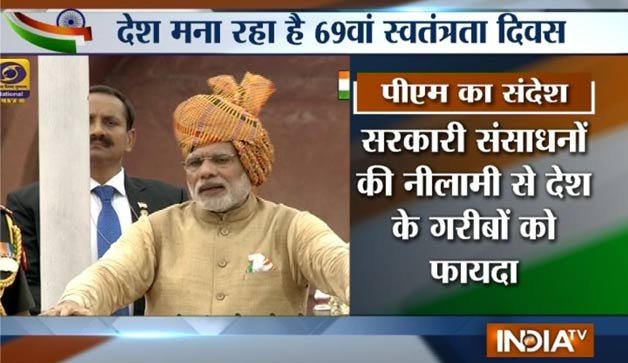 * Corruption has to be removed fully from the system: PM Modi
* Today I proudly say that the 'give it up' campaign for gas subsidy has been successful, 20 lakh people have given subsidy up: PM Modi
* Some people like to remain in 'Nirasha'. And they are not satisfied till they have spoken about it to other people: PM Modi
* Dignity of labour has to be our national duty, it has to be a part of our nature: PM Modi
* We introduced Shrameva Jayate Yojana. It is an effort to chage the way we look at the workers of India: PM Modi
* Who has given maximum strength to Swachh Bharat Abhiyaan? It is the children of India: PM Modi
* People from all walks of life, spiritual leaders, media friends, celebrities, everyone has worked to create awareness: PM Modi
* If there is something that has touched every person, it is the movement towards cleanliness: PM Modi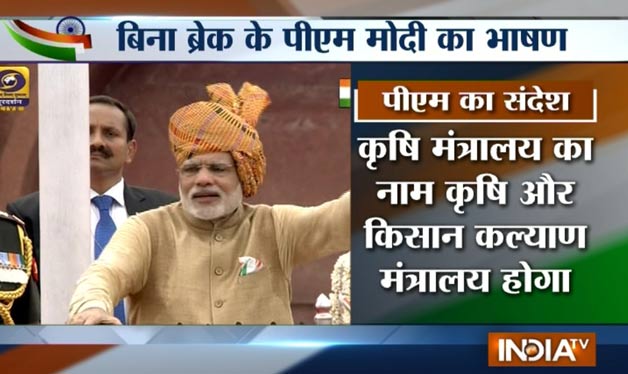 * Last time from the Red Fort I spoke about toilets and cleanliness. People wondered what kind of PM is he, talking about these issues: PM Modi
* We have emphasised on a new work culture: PM Modi
* We have focussed on social security: PM Modi
* When the branch of a bank is built somewhere, people rejoice. But this is still easy. Getting people to those banks takes effort: PM Modi
* After all who are the banks for, they are for the poor: PM Modi
* Bank accounts are essential for integrating the poor into the financial system: PM Modi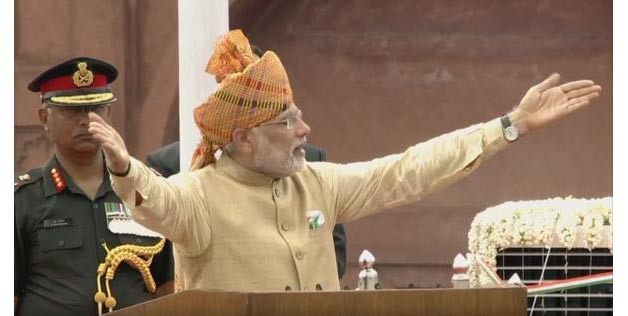 * The doors of the banks were not open for the poor. We decided this must end. We wanted to strengthen financial inclusion: PM Modi
* There is a new atmosphere of trust: PM Modi
* All our schemes must serve the poor: PM Modi
* Be it MyGov, letters from citizens, Mann Ki Baat, communication with people...daily Jan Bhagidari is increasing: PM Modi
* Jan Bhagidari is the biggest asset of a democracy: PM Modi
* This is Team India, a team of 125 crore Indians. This is the Team that makes the Nation and takes our Nation to new heights: PM Modi
* If the unity of India is destroyed then the dreams of the people are also destroyed: PM Modi
* We have to end the curse of casteism, communalism with the sweetness of development: PM Modi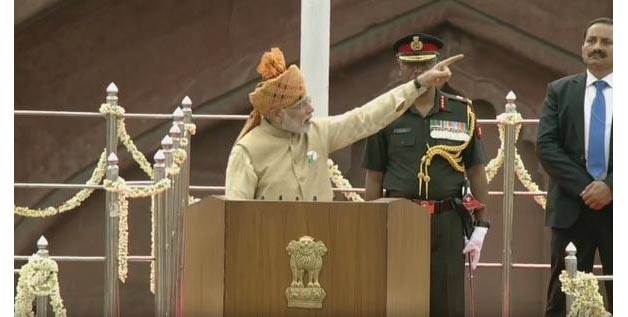 * There is simplicity in every Indian and there is unity in every corner of India. This is the strength of India: PM Modi
* Prime Minister pays tributes to all those great people who laid down their lives for India, during India's freedom struggle
* This is no ordinary morning, this is the morning of the world's largest democracy's Independence: PM Modi
* A very happy Independence Day to all my fellow Indians: PM Modi
* PM Modi hoists tricolour at the Red Fort
* PM Modi takes salute at Red Fort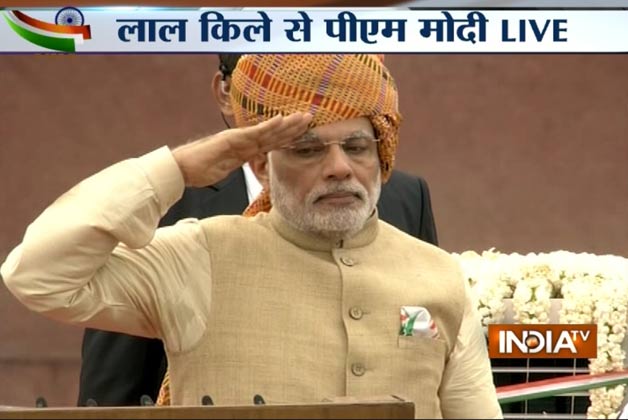 Prime Minister Narendra Modi was given a ceremonial guard of honour on Saturday when he reached the Red Fort on the occasion of India's 69th Independence Day.
* PM Modi pays floral tribute at Raj Ghat - the memorial of Mahatma Gandhi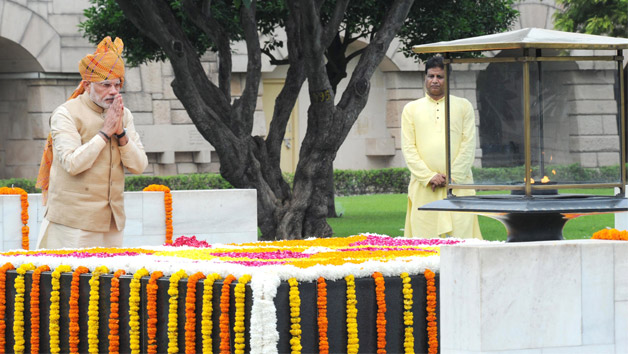 * Senior BJP leader LK Advani arrives at Red Fort for Independence Day celebrations
* Home Minister Rajnath Singh, Finance Minister Arun Jaitley, BJP president Amit Shah arrive at Red Fort
Google India is celebrating country's 69th Independence Day by paying tribute to the famous Dandi March on its homepage.
The tableau representing Mahatma Gandhi along with a group of followers features one of the most important chapters of India's freedom history.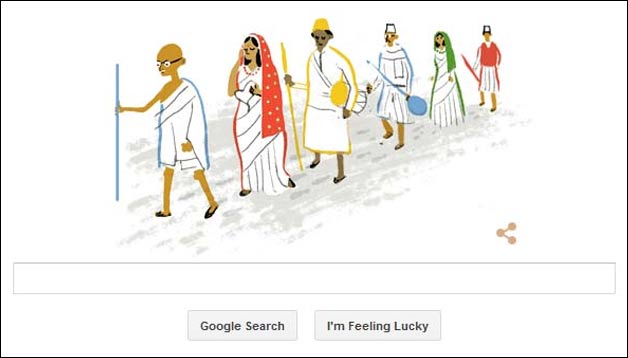 The national capital has turned into a virtual fortress with over 6,000 security personnel on duty to pre-empt any terrorist strike in the city.
Considering central intelligence inputs that terror group Lashkar-e-Taiba may attempt to attack markets or places of strategic importance, an impregnable ground-to-air security apparatus is being put in place at Red Fort and areas within its five-kilometre radius.
Intelligence agencies have warned Delhi Police that the terrorists may effect a strike like the recent Gurdaspur or Udhampur attacks.
A multi-layer security apparatus will be in place around the 17th century Mughal monument Red Fort.
Besides sky patrols by helicopters, an air defence mechanism is also put in place around the Red Fort.
Security personnel along with sharpshooters of the NSG are placed on all high rise buildings around the Red Fort.