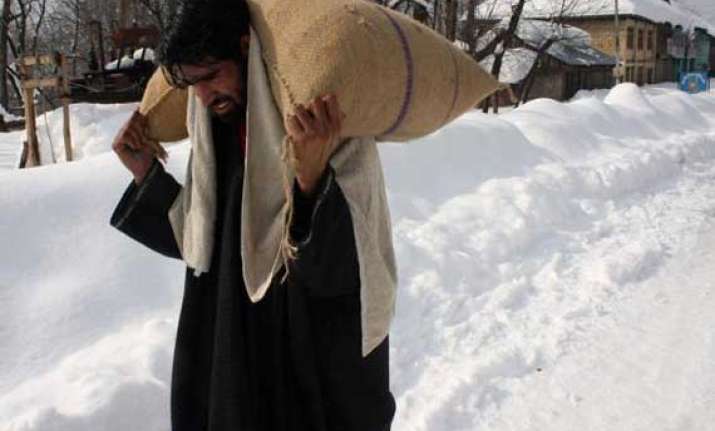 Srinagar-Jammu highway closed, more rain and snow forecast
Srinagar: The strategic Srinagar-Jammu highway was closed Monday afternoon following snowfall and slippery road conditions in its Banihal sector, an official said. The weather department has forecast more rain and snow in the next two days.
"Following fresh snowfall and slippery road conditions in the Banihal sector, Srinagar-Jammu national highway has been closed for vehicular traffic today (Monday) afternoon. Travellers must not undertake the journey without contacting traffic control rooms in Srinagar and Jammu," a traffic department official told IANS.
Meanwhile, Sonam Lotus, director of the weather office, said rain and snowfall is likely in the Valley and the Ladakh region during the next two days.
There could be isolated heavy snowfall at some places during this period, he said.
Reacting to a number of phone calls he has been receiving today with callers blaming the weather office for issuing 'alarmist forecasts' of heavy snowfall in the Valley, Lotus said: "We never said there would be heavy snowfall in the hinterland. We have forecast moderate rain/snowfall in the Valley from Feb 2 to Feb 6.
"There has been heavy snowfall at many places in the higher reaches of the Valley during the last 12 hours. Our forecast of moderate rain/snowfall in the hinterland with isolated heavy snowfall is still relevant during the next 48 hours," he said.
Lotus clarified that all they do "is interpret scientific data in terms of its impact on the local weather system" and "it is scientifically not possible to pinpoint with arithmetical accuracy as to when rain/snowfall will exactly start or stop in terms of seconds and minutes".
"Our duty is to forecast weather based on gathering scientific evidence and there is nothing like an astrological assumption in this scientific exercise. While issuing forecasts and warnings we have to keep the safety and well being of everybody including people living in far off and inaccessible areas in mind," he said.