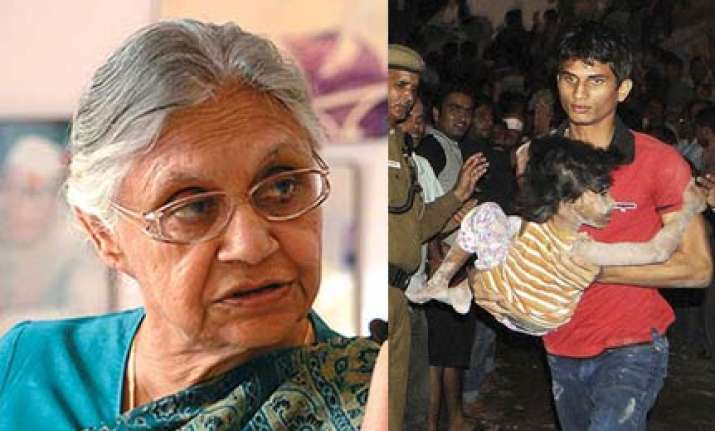 New Delhi, Nov 17: The tragic incident of Lalita Park could have been averted had the Delhi Government acted on the FIR lodged by Information Commissioner Shailesh Gandhi with Delhi Police and letter sent to Chief Minister Sheila Dikshit exposing "rampant" illegal construction in the city.
The Information Commissioner who had highlighted the issue of illegal construction in the national capital through his letters to Chief Minister Sheila Dikshit and Municipal Commissioner K S Mehra, had last year gone to the extent of filing an FIR with the Anti-Corruption Branch of Delhi Police.
"I came across number of cases during appeals highlighting illegal construction in the national capital. These constructions also underline collusion of MCD officials with the builders. I have written to Chief Minister, MCD Commissioner and even filed an FIR but no substantial action seems to have been initiated by them," Gandhi told PTI.
In his letter to the Chief Minister Sheila Dikshit, Gandhi had sent a list of 65 illegal buildings from "just one zone" of the Corporation -- Shahdara South Zone -- and said officials are working in nexus with the builders.
"Buildings upto four storeys have come up without even applying for approval from Municipal Corporation of Delhi. It appears that there is a clear modus operandi at work to ensure that illegal buildings can be built without any hindrance," Gandhi had written on November 2009.
The Information Commissioner had lamented that officials turn a blind eye towards such constructions and "no cognisance is taken of any complaints".
"It is clear from the scale and extent of the illegal construction that they could not have been carried out without some level of collusion with the MCD officials. The value of these illegal and unauthorised buildings is likely to be a few hundred crores," Gandhi had said.
He also highlighted alleged lack of "commitment" from the Municipal Commissioner regarding illegal constructions in the national capital. Seeing that his pleas with authorities were not yielding any substantial results, Gandhi went on to file an FIR with the Anti-corruption Branch under Prevention of Corruption Act.
But here also he could get an assurance on February 25, 2010 that "investigations are in progress". PTI