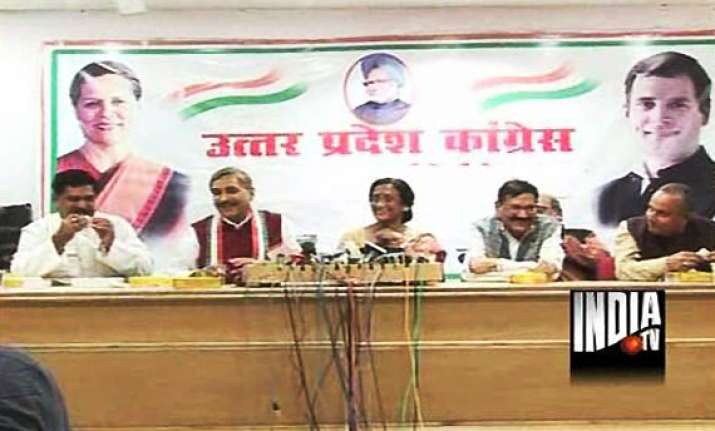 New Delhi, Nov 16: UPCC chief Rita Bahuguna Joshi's brother Shekhar Bahuguna, sons of party MPs Jagdambika Pal and Harshvardhan and former Union Minister Salim Sherwani's brother find a place in the third list of 78 Congress candidates announced today for UP assemply elections. 

With this, the party has so far cleared the candidates for 213 seats in the 403-member state Assembly. 

The party has, however, refrained from announcing candidates on seats in western UP, where the talks are still for an alliance with Ajit Singh's RLD for the poll due early next year.

Apparently irked at the delay in stitching the alliance, Singh today said, "Talks are on with the Congress. But this does not mean a tie-up is necessarily taking place. There is still no certainty. There are several issues like seat-sharing, campaign strategy and manifesto that need to be worked out."

There has been speculation that RLD could get between 40 to 50 seats in his home-turf of western UP under a tie-up with Congress. He may also be made a cabinet minister at the Centre.

The third list was decided at a meeting of the Central Election Committee of the party chaired by Sonia Gandhi on November 5.

There were some issues on five to six seats, candidates for which can be announced later.

In August, the party released the first list of 73 candidates, while in September, names of 62 candidates were announced.

Of the 403 seats in the UP Assembly, Congress had won 22 in 2009 and is looking for a revival of its fortune in the crucial state.