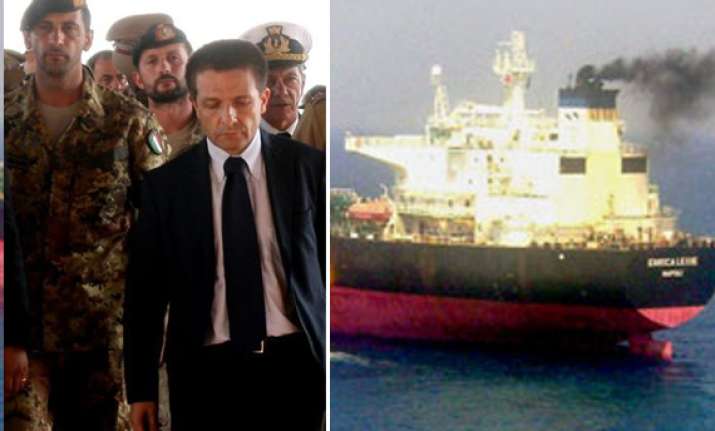 Kochi/New Delhi, Feb 19: Kerala police on Sunday took into custody two armed personnel of an Italian vessel from which gunshots were fired killing two fishermen off Alappuzha on Wednesday.

Latore Massimiliano and Salvatore Girone, who are part of the six-member security detail of the ship Enrica Lexie from Italian Navy, were brought to the shore this evening nearly eight hours past the deadline set by the police last night.

The two were brought to the shore from the vessel by senior police officers led by Ernakulam Range IGP K. Padma Kumar, Kochi Police commissioner, M. R. Ajith Kumar, Kollam SP Sam Christy Daniel and Assistant Commissioner (Special Branch) M.N. Ramesh. Italian Consul General also accompanied them.

They were taken to a CISF guest house at nearby Wellignton island for detailed interrogation, police sources said.

IGP Padmakumar told reporters that police examined documents in the ship and recorded the statement of the 20-odd crew and the Captain.

"As the matter was very sensitive, a detailed statement had to be made," he said adding, at no point of time they (ship crew) created any obstacles and extended their cooperation.

Meanwhile, an Italian delegation, including officials from their Legal and Foreign ministries, arrived in New Delhi on Sunday and met Indian officials in connection with the killing of fishermen by the guards on board the ship.

The visiting team discussed the case with senior External Affairs Ministry officials during which the Indian side expressed hope that the Italians will cooperate in ensuring that law of the land takes its course.

MEA spokesperson Syed Akbaruddin said both the sides had a "fairly comprehensive" discussion.

"We had a fairly comprehensive discussion whereby we have explained to them the rationale of our position and the situation as it exists today. We have also explained to them that as good partners and as External Affairs Minister S. M. Krishna had requested yesterday, we hope Italy will cooperate with us in ensuring law of the land takes its course. We also requested them to fully cooperate with Kerala Police," he told reporters.

Official sources have said that the team will also go to Kochi for legal consultations in connection with the case.

The two fishermen, Ajesh Binki (25) and Jalastein (45) ,were killed off Kollam coast near Kerala when armed guards of the ship fired at their boat, suspecting it to be a vessel belonging to pirates.