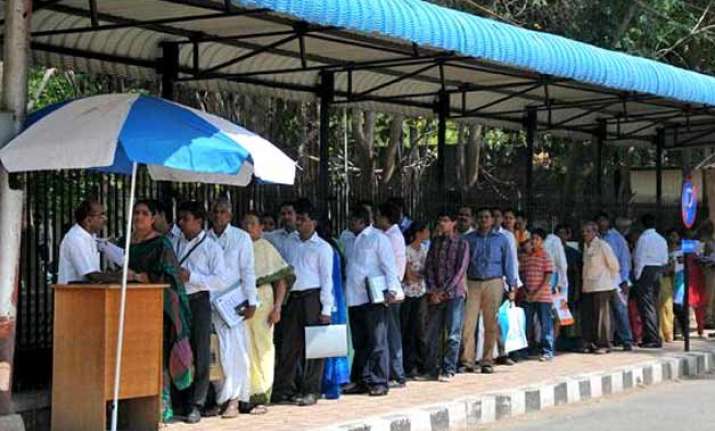 New Delhi: Despite the regular increase in the number of Indian working in United States, India suffered the highest number of L-1B visa denials between 2012 and 2014.
The data released by the Virgina-based National Foundation for American Policy (NFAP) shows that 56% of the L-1B visa petitions by Indians were rejected, compared with an average denial rate of 13% for all countries other than India.
Rejection rates have increased sharply since the 2007-08 global financial crisis and the resulting high unemployment rates in the US.
The data shows the denial rates for Chinese and Mexican nationals were less than half of India's - at 22% and 21%, respectively. British nationals followed at 16% and Japanese and German nationals at 15%.
NFAP says the high rate of denials and requests for evidence (made when an application/petition lacks required documentation/evidence) for L-1B petitions could have a negative impact on the US's ability to develop products and services that compete globally.
L-1B visa is a non-immigrant visa enabling US employers to offer intra-company transfer of employees with specialized knowledge from one of its affiliated foreign offices to one of its offices in America. 'US employers' in this case also include Indian companies with US subsidiaries. The biggest users of L-1 visas are Indian IT companies like TCS, Infosys and Wipro. Transferred employees can stay in the US for up to five years.
As quoted by TOI, Vikram Shroff, head of the HR Law practice at leading law firm Nishith Desai Associates says, "The data is shocking and needs to be taken up immediately at the government level. Unlike the H-1B visa, L-1 visas do not have a yearly limit. Given that India is globally known for its specialized knowledge pool, the US government should provide the reasons for such a high number of rejections from India, while streamlining and providing clear guidance on the application process,"