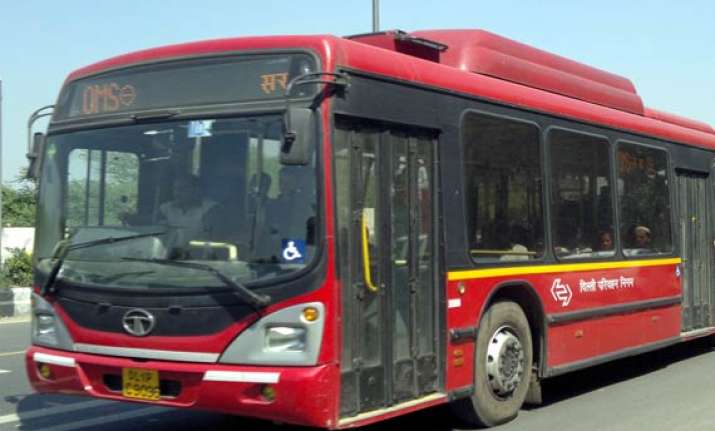 New Delhi: The Delhi High Court has asked the Delhi Transport Corporation to ensure that no person without a valid driving licence or who is medically unfit drives its buses on the city roads.
A bench of justices B D Ahmed and S Mridul passed the order while hearing a plea by an NGO which alleged that most of the over 4000 DTC drivers recruited in 2007-08 are colour- blind and sought that they be medically re-examined.
The court has given DTC time till August 6 to inform it on what the agency intends to do about the verification of the driving licences of its drivers recruited in 2007-08 as well as carrying out their medical examination.
"Counsel appearing on behalf of DTC states she may be given some time to take instructions with regard to the verification of the driver's licence of all those persons whose recruitments were carried out in 2007-2008," the bench said.
"She shall also take instructions with regard to carrying out of medical tests in respect of such individuals to ensure that no person without a valid driving licence and no person who is medically unfit should be driving a DTC bus," it said.
The court also observed that the agency should verify the licences of new applicants before recruiting them and allowing them to drive on the city's roads.
The PIL filed by NGO, Azaad Dasta Sankalp Humara, through advocate Vishnu Sharma, also sought "an impartial investigation by a Special Investigation Team or CBI into the illegal and fraudulent appointments conducted for the posts of drivers in Delhi Transport Corporation in 2008".
The NGO has alleged that of the 4415 drivers recruited in 2008, over 850 were found to be medically unfit by the DTC medical board.
Thereafter, another medical board was constituted and about 56 candidates, who were earlier found unfit, were examined by Guru Nanak Eye Centre which had declared majority of them as fit, the petition has said.
These drivers, declared fit by Guru Nanak Eye Centre, were allowed to drive buses on city roads and "thereafter there were frequent road accidents by DTC buses as appeared in local newspapers", the NGO has alleged.
"Further, re-examination was conducted in Deen Dayal Upadhyay (DDU) Hospital and the same candidates earlier declared fit by Guru Nanak Eye Centre have been declared unfit again by DDU," the petition alleged.
The NGO contended that most of the over 850 drivers found medically unfit by DTC medical board were suffering from eye defects, including colour-blindness.
"Colour blindness is a permanent disease which cannot be cured, so there is no chance that the test conducted by DTC medical board would differ in such a short time in hundreds of cases that were found changed by Guru Nanak Eye Centre," the petition has alleged.
It has also alleged that according to news reports several DTC drivers have been found to have fake driving licences and FIRs have been registered against several such persons.
The NGO also sought action against all the officials concerned of DTC and the eye centre who were involved in the "illegal appointment" of unfit drivers without valid driving licence into DTC.