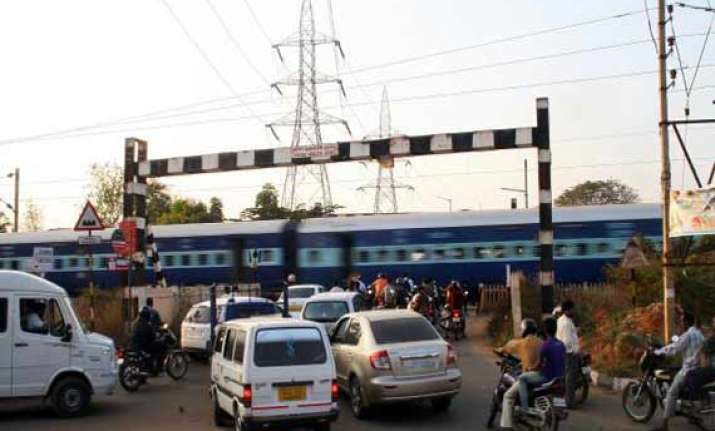 New Delhi: Stepping up efforts to prevent accidents at unmanned level crossings, Northern Railway has deployed 85 personnel known as "Gate Mitras" to educate road users at vulnerable rail crossings in Delhi Division.
Gate Mitras have been deployed at unmanned level crossings to educate road users to use the the crossings safely, said Northern Railway General Manager Pradeep Kumar while launching the new Time Table 2014-15 here.
The new Time Table will be effective from September 1.
Kumar said deployment of the Gate Mitra is an additional step besides the ongoing awareness campaign through posters, radio, newspapers and other media about how to use the rail crossings safely.
Currently, railways have 31,254 level crossings and around 40 per cent of these are unmanned and maximum number of accidents take place at these crossings.
Despite financial constraints, railways have set an ambitious target of eliminating 10,797 level crossings during the 12th five-year plan (2012-17) and not adding any new level crossing to the rail network in future.
Currently, railway staff are being deployed as Gate Mitra at vulnerable crossings. Later on ex-servicemen will be hired as Gate Mitra at these crossing for which Delhi Division will soon go for the hiring process.
Kumar said construction of 52 road over-bridges and road under-bridges were completed last year and this year seven more ROB/RUB were completed till June.
In order to strengthen the safety, seven level crossings were equipped with interlocking system, he said.  In the interlocking system, the gate will not open at the crossing unless signal is green for the road users.  
"We are also taking additional steps like track circuiting measures in 53 places to prevent train mishaps. If a train is stationed at a certain track at the station, then another train will not be able to move on the same track as its movement will be automatically stopped in track circuiting system," he said.