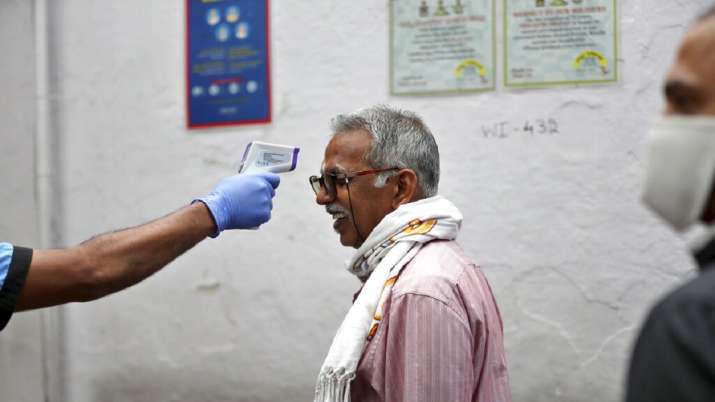 India coronavirus confirmed cases have crossed 1.82 lakh mark taking positive patients toll to 1,82,143 including 89,995 active cases 5,164 deaths and 86,984 recovered, according to the health ministry's figures released on Sunday. On Saturday, COVID-19 cases in India reached 1.76 lakh after a record spike in numbers of new cases and fatalities reported.
Meanwhile, the government on Saturday said a phased wise exit would begin on June 1 from the over-two-months-long nationwide lockdown. The Union Health Ministry said all precautions must be taken while "living with the new normal" of COVID-19, as it stressed on strict adherence to physical distancing and use of face covers at public places by everyone while also following personal and social hygiene standards.
"The management of COVID-19 is only possible when all the due care is taken by everyone without being complacent about the situation and by not taking the relaxations during the lockdown situation for granted," it added.
Announcing the new guidelines, the Home Ministry said a complete lockdown would continue till June 30 in areas identified as COVID-19 containment zones across the country, but restrictions would be lifted in a phased manner at other places after the ongoing fourth phase of the lockdown ends this Sunday.
State-wise list of COVID-19 cases, deaths in the country
| Name of State / UT | Active Cases* | Cured | Deaths** | Total Confirmed cases* |
| --- | --- | --- | --- | --- |
| Andaman and Nicobar Islands | 0 | 33 | 0 | 33 |
| Andhra Pradesh | 1220 | 2289 | 60 | 3569 |
| Arunachal Pradesh | 3 | 1 | 0 | 4 |
| Assam | 1018 | 163 | 4 | 1185 |
| Bihar | 1998 | 1618 | 20 | 3636 |
| Chandigarh | 96 | 189 | 4 | 289 |
| Chhattisgarh | 344 | 102 | 1 | 447 |
| Dadar Nagar Haveli | 2 | 0 | 0 | 2 |
| Delhi | 10058 | 8075 | 416 | 18549 |
| Goa | 29 | 41 | 0 | 70 |
| Gujarat | 6106 | 9230 | 1007 | 16343 |
| Haryana | 932 | 971 | 20 | 1923 |
| Himachal Pradesh | 197 | 111 | 5 | 313 |
| Jammu and Kashmir | 1405 | 908 | 28 | 2341 |
| Jharkhand | 302 | 256 | 5 | 563 |
| Karnataka | 1877 | 997 | 48 | 2922 |
| Kerala | 624 | 575 | 9 | 1208 |
| Ladakh | 31 | 43 | 0 | 74 |
| Madhya Pradesh | 3104 | 4444 | 343 | 7891 |
| Maharashtra | 34890 | 28081 | 2197 | 65168 |
| Manipur | 54 | 8 | 0 | 62 |
| Meghalaya | 14 | 12 | 1 | 27 |
| Mizoram | 0 | 1 | 0 | 1 |
| Nagaland | 36 | 0 | 0 | 36 |
| Odisha | 762 | 1050 | 7 | 1819 |
| Puducherry | 37 | 14 | 0 | 51 |
| Punjab | 222 | 1967 | 44 | 2233 |
| Rajasthan | 2685 | 5739 | 193 | 8617 |
| Sikkim | 1 | 0 | 0 | 1 |
| Tamil Nadu | 9024 | 12000 | 160 | 21184 |
| Telengana | 1010 | 1412 | 77 | 2499 |
| Tripura | 96 | 172 | 0 | 268 |
| Uttarakhand | 642 | 102 | 5 | 749 |
| Uttar Pradesh | 2834 | 4410 | 201 | 7445 |
| West Bengal | 2851 | 1970 | 309 | 5130 |
| Cases being reassigned to states | 5491 |   |   | 5491 |
| Total# | 89995 | 86984 | 5164 | 182143 |
(With inputs from PTI)
ALSO READ | Coronavirus worldwide cases cross 6.1 million mark; death toll at 3,70,870
ALSO READ | Lockdown 5.0 guidelines issued for phased reopening of all activities for 1 month. Full List
​