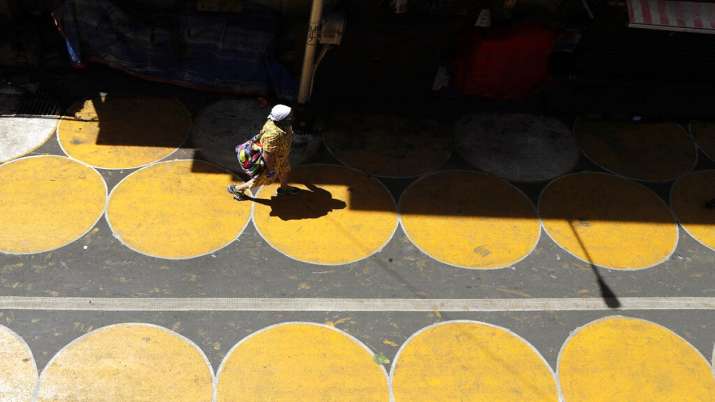 India coronavirus cases have crossed 5.66 lakh-mark taking positive patients toll to 5,66,840 including 2,15,125 active cases, 3,34,822 recovered and 16,893 deaths, as per health ministry's figures released on Tuesday. India currently stands at the 4th spot in terms of having the maximum number of coronavirus cases.
Even as Delhi continues to battle the Covid-19 pandemic, its neighbouring Gautam Buddha Nagar district, which comprises Noida and Greater Noida, witnessed just 53 new cases on Monday, while 211 people were discharged from different hospitals. The district, which has sternly insisted in regulating to and fro traffic from Delhi, didn't report any death in the last 24 hours.
The Uttar Pradesh government informed that 211 people have been discharged in the last 24 hours, taking the total number of those discharged to 1,430. As on Monday, the district has 756 active cases. So far, Gautam Buddha Nagar has reported 22 Covid related deaths.
As on Monday, GB Nagar has 257 Category 1 and 56 Category 2 containment zones.
State-wise list of COVID-19 cases, deaths in India
| Name of State / UT | Active Cases* | Cured | Deaths** | Total Confirmed cases* |
| --- | --- | --- | --- | --- |
| Andaman and Nicobar Islands | 44 | 46 | 0 | 90 |
| Andhra Pradesh | 7479 | 6232 | 180 | 13891 |
| Arunachal Pradesh | 125 | 61 | 1 | 187 |
| Assam | 2408 | 5333 | 11 | 7752 |
| Bihar | 2188 | 7390 | 62 | 9640 |
| Chandigarh | 80 | 349 | 6 | 435 |
| Chhattisgarh | 575 | 2173 | 13 | 2761 |
| Dadra and Nagar Haveli and Daman and Diu | 126 | 77 | 0 | 203 |
| Delhi | 26246 | 56235 | 2680 | 85161 |
| Goa | 717 | 478 | 3 | 1198 |
| Gujarat | 6871 | 23240 | 1827 | 31938 |
| Haryana | 4476 | 9502 | 232 | 14210 |
| Himachal Pradesh | 377 | 556 | 9 | 942 |
| Jammu and Kashmir | 2557 | 4585 | 95 | 7237 |
| Jharkhand | 566 | 1845 | 15 | 2426 |
| Karnataka | 6386 | 7683 | 226 | 14295 |
| Kerala | 2015 | 2152 | 22 | 4189 |
| Ladakh | 347 | 616 | 1 | 964 |
| Madhya Pradesh | 2607 | 10199 | 564 | 13370 |
| Maharashtra | 73313 | 88960 | 7610 | 169883 |
| Manipur | 733 | 494 | 0 | 1227 |
| Meghalaya | 4 | 42 | 1 | 47 |
| Mizoram | 93 | 55 | 0 | 148 |
| Nagaland | 266 | 168 | 0 | 434 |
| Odisha | 1890 | 4946 | 23 | 6859 |
| Puducherry | 388 | 221 | 10 | 619 |
| Punjab | 1516 | 3764 | 138 | 5418 |
| Rajasthan | 3637 | 13618 | 405 | 17660 |
| Sikkim | 38 | 50 | 0 | 88 |
| Tamil Nadu | 37334 | 47749 | 1141 | 86224 |
| Telangana | 9559 | 5582 | 253 | 15394 |
| Tripura | 294 | 1085 | 1 | 1380 |
| Uttarakhand | 681 | 2111 | 39 | 2831 |
| Uttar Pradesh | 6650 | 15506 | 672 | 22828 |
| West Bengal | 5535 | 11719 | 653 | 17907 |
| Cases being reassigned to states | 7004 |   |   | 7004 |
| Total# | 215125 | 334822 | 16893 | 566840 |