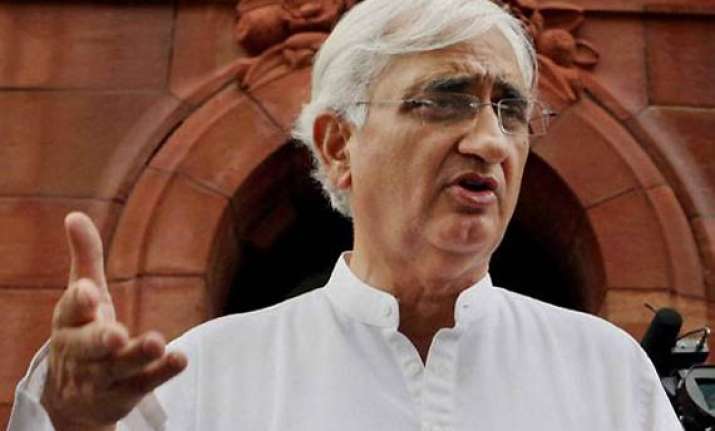 New Delhi, Dec 9: Law Minister Salman Khurshid today defended Government's move to give Constitutional status to proposed Lokpal, saying it gives special guarantee of authority and integrity to an institution. 

He also said Rahul Gandhi's aspiration and determination is that Lokpal should be no less than the Constitutional institutions of the country like the Supreme Court. 

"Those who don't want Constitutional status must explain to the government and to people why they don't want it? My impression is in this country people seek Constitutional status as a special guarantee of the authority and integrity of an institution," he told a television channel. 

To Anna Hazare's accusations that the Government has not fulfilled its promises with regard to the 'Sense of the House' resolution adopted in Parliament in August, he said, "People who are inside the House will understand the sense better than those who are outside."

The Standing Committee members were present in the House and they must understand.

"Hazare's friends speed-read the report. I don't have that capability to speed-read the report. I will read it by evening," he said.

To a specific question, he said, "If Hazare is getting any information about our governing system that information is false. If I start commenting on Hazare's institution that nobody listen to him it would not be a good thing. How would I know whether people listen to him or not?"

Parliamentary Affairs minister Pawan Kumar Bansal today said Team Anna should await the passage of the Lokpal Bill before going ahead with any agitation on the issue.

"They should all wait for a decision in Parliament.  People can give their views and Parliament takes the decision," Bansal told reporters.

In reply to a question on Hazare's proposed day-long agitation at Jantar Mantar on Sunday and Team Anna's attack on the Standing Committee's report on Lokpal Bill, Bansal said "it amuses and bemuses me that discussions will be held in Jantar Mantar."

He said issues, if any, needed to be resolved in an atmosphere of peace and amity and not by vitiating it. "It is the responsibility of Parliament to pass laws. That right flows from the Constitution and in that respect Parliament is supreme," he said.

He also wanted Team Anna to understand that law-making is a dynamic process.

The talk in government circles is that the Bill could come up for discussion at a meeting of the Union Cabinet likely on December 14 and it would be brought for consideration on December 19.

Reacting to Team Anna's criticism of the report, Standing Committee Chairman Abhishek Singhvi said the panel could not put a rubber stamp on any of the proposals and has to take decisions based on its perceptions.

"If we have to be rubber stamps, then Parliamentary Standing Committees should be abolished," he said.