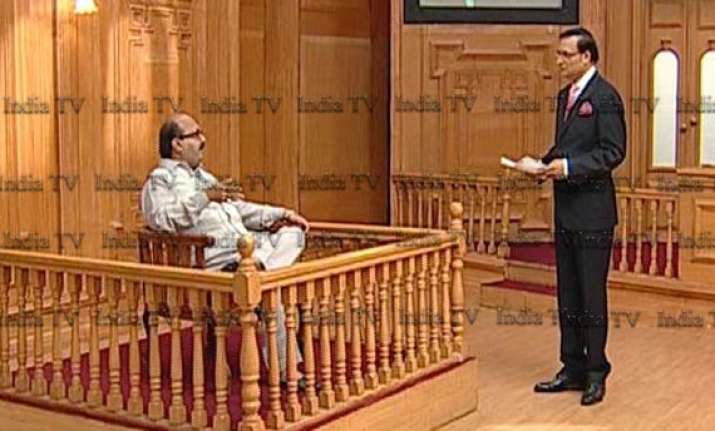 New Delhi, Apr 23: Expelled Samajwadi Party leader Amar Singh has asked civil society activists to get rid of Bhushan father-son duo from the joint drafting panel on Lok Pal Bill and induct noted jurist Ram Jethmalani instead.

Grilled by Rajat Sharma on India TV's most popular talk show Aap Ki Adalat, Singh said Jethmalani is far ahead of the Bhushan father-son duo in terms of legalities, aggression and nuance and he would be useful in drafting a strong Lok Pal Bill.

On the other hand, Singh said, the Bhushan father-son duo have already declared that they own Rs 180 crore worth assets.  "If the bricks used for the foundation of Lok Pal Bill are faulty, how can you expect a strong structure like the Lok Pal?", asked Singh.

Pitching for Jethmalani, Amar Singh said, though the former belonged to BJP, he had taken an independent stand on the issue of Kashmir and his first commitment is to the rule of law.

Singh also disclosed that had Jethmalani not intervened, the father-son duo, whom he described as "PIL fixers",  would have been hauled up for contempt of court  before the Supreme Court in a particular case.

Asked by Rajat Sharma, whether he was taking up cudgels against the Bhushans at the instance of Congress, Amar Singh said: "I swear on my father, I have not talked either with the PM or Sonia or Rahul Gandhi at all, though had I wanted I could have talked to them. ...I have only placed facts, it is not a smear campaign...I haven't said any thing against Arvind Kejriwal, though I object to his hurling of abuses against politicians on a news channel".

Singh said: "I know Pranab Mukherjee since my childhood and at least nobody can say he is a 'chor' (thief). Kapil Sibal is an astute lawyer who charges high fees but he is not a PIL fixer (like the father-son duo). If the civil society activists want transparency and accountability from political leaders, then they should be the first to do so."

"You can't bring change in the system by labelling all politicians as thieves (chor). Big politicians are at least Robin Hoods for their constituencies, say Sharad Pawar in Baramati, Mayawati in Badlapur and Mulayam Singh in Saifai", said Singh.

Asked by Rajat Sharma whether he was being the 'Jhandu balm' (pain reliever) for Congress, Singh smiled and said: "No not for Congress, but for politics. Jhandu balm phrase is not used in the proper sense. I am not a medicine for Congress. I am an unguided missile who can't tolerate falsehoods."

Singh appealed to Anna Hazare to sit on fast to force the government to take measures to stop the rising number of suicides by Vidarbha farmers, or, sit on fast in Lucknow against the  Mayawati government to fight corruption.

Singh revealed that he had saved the UPA government on the nuclear deal issue because of former President APJ Abdul Kalam. "It was Kalam Saheb who told me the nuclear deal was in the interest of the nation, which China and Pakistan were opposing, and my stand was hailed by none other than Mohammed El Baradei, the former IAEA chief", said Singh.

On his differences with  Bachchan family, Singh said, he had no issues with either Big B, Abhishek or Aishwarya, but with Jaya Bachchan. 'It was Jaya who opted for 'kursi' (Rajya Sabha membership) at the cost of friendship', said Singh.

Do not miss Rajat Sharma's Aap Ki Adalat with Amar Singh to be telecast on India TV on April 23 (Saturday) at 10 pm and on April 24 (Sunday) at 10 am and 10 pm.