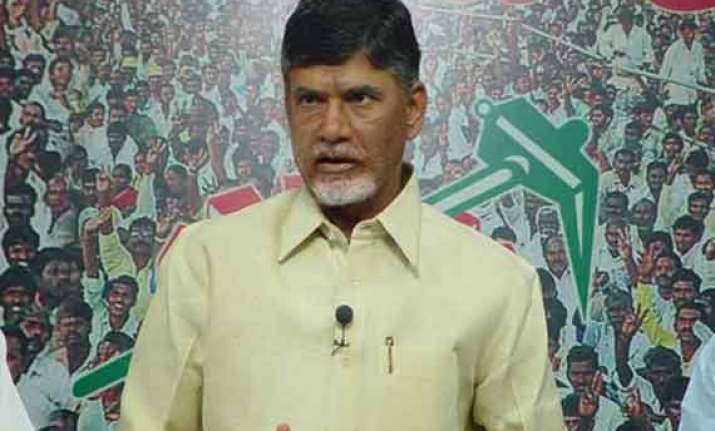 Hyderabad: Andhra Pradesh Government yesterday constituted a 40-member high-level Task Force for Industry and Infrastructure to "prepare a strategic roadmap and provide inputs for overall economic development" based on the identified vision for the state.
The prime endeavour of this task force headed by Chief Minister N Chandrababu Naidu will be to promote 'Brand Andhra Pradesh' by suggesting policy directions for the growth of all sectors of industries in the state, according to officials.  
The task force will suggest strategies and guidelines, in identified focus areas, for industrial investment promotion, development of green & friendly cities, agriculture and food processing sectors, infrastructure and logistics.  
It will suggest ways and provide directions for attracting new investments to Andhra Pradesh and suggest policy directions for the growth of all sectors of industries, a Government Order issued by Principal Secretary (Industries and Commerce) J S V Prasad said.
Besides the Chief Minister, the body will have five Ministers, Chief Secretary, eight top-ranking bureaucrats, 19 top brass from the industry and six representatives of various business associations.
The Principal Secretary (Industries and Commerce) will act as the member-convenor.  
Some of the top industry leaders who part of the task force are: Azim Premji, Adi Godrej, K V Kamath, S Ramadorai, Sunil Kant Munjal, Chandrajit Banerjee and Venu Srinivasan.  
The task force has been constituted for a period of three years, Prasad said, adding it would meet once every three months during the first year.
It would suggest ways and means to the government to make it a globally competitive destination for investments in the sectors like manufacturing, pharma and life sciences, agri -processing, knowledge-based industries, ports and logistics, petrochemicals and mineral processing.  
The agency would suggest and facilitate projects in Public-Private Partnership (PPP) mode in the 'sunrise state'.  
It would also deliberate and seek to resolve policy issues affecting existing industry and proposed projects in Andhra Pradesh and suggest systemic changes to expedite clearances and approvals for investment proposals, the Principal Secretary added.