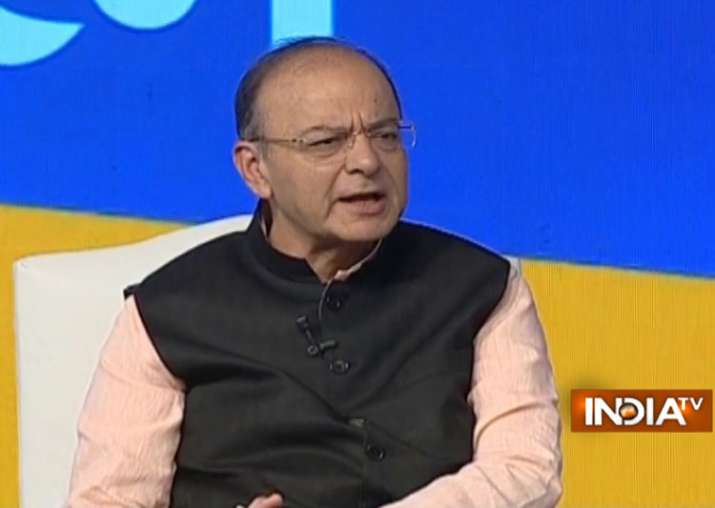 Union Minister of Defence, Finance and Corporate Affairs, Arun Jaitley on Sunday praised Major Leetul Gogoi, who had tied a man to a jeep in Kashmir purportedly as a shield against stone pelters. (LIVE: VANDE MATARAM - India TV's mega conclave against terrorism)
Speaking at VANDE MATARAM - India TV's mega conclave against terrorism, Jaitley said Gogoi's strategy was harmless and helped in saving the lives of local people as well as the defence forces and election officials. 
"The military strategy adopted by the Army officer was harmless. Had he adopted a different strategy, he would have put the forces, the locals in danger," Jaitley said.
Jaitley added that the security forces are working in a difficult situation and clarified that their battle was not with the general public of Kashmir, even if they are protesting and were misled.
"Security forces are working in a difficult situation. Our battle is not with the general public even if they are misled. The priority of forces is to target and fight armed militancy in Kashmir," he said.
In Pics: Vande Mataram India TV: Recent Incidents Have Shown That Our Forces Dominate The Borders, Says Arun Jaitley
A video, shot on April 9 during the Srinagar by-polls held amid violent incidents, showed a man, later identified as Farooq Ahmad Dar, being tied to the bonnet of an army jeep in Badgam of Jammu and Kashmir to ward off stone-pelters.
The video went viral on social media and created an uproar. An FIR was registered by the Jammu and Kashmir police against the security forces.
Major Gogoi was later awarded the Army Chief's Commendation Card for sustained efforts in counter insurgency operations. 
Jaitley had come out in support of the officer earlier as well. The minister had said it should not be forgotten that the officer had responsibility to save the lives of those involved in the election process as well as the crowd that had gathered.