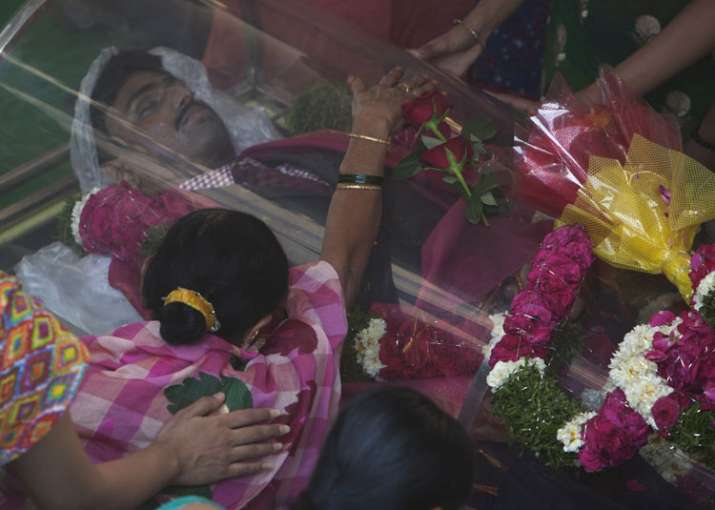 Rejecting media reports that a demarche was issued to the United States over the killing of a Hyderabad engineer, India today said pro-active response of the American government and senior authorities in Kansas "obviated" the need for such an action.
"It is important to note that the US authorities are engaged with us on the larger concern regarding safety of Indians in the US, a matter which continues to receive the government's top priority," External Affairs Ministry Spokesperson Gopal Baglay asserted. 
He said the US government and senior authorities in Kansas have pro-actively responded to the unfortunate death of Srinivas Kuchibhotla, and also drew attention to the strong condemnation of the tragic shooting by the US Embassy here last week. 
Further, the US Charge d'Affaires had stated that her country welcomes people from across the world and the US authorities will investigate thoroughly and prosecute the case, he noted. 
"This approach is reflected in the sentiments and assurances from senior most authorities of Kansas, who have reached out to the Indian Consul General in Houston. These developments obviated the need for a demarche by the government on this matter," Baglay said. 
The Spokesperson was reacting to a query on the media report that the Embassy of India in Washington had issued a demarche to the US State Department. 
In Washington last week, Indian Embassy Spokesman Pratik Mathur in a statement had said, "Government of India has taken up the matter with the US authorities to express our deep concern and have asked for speedy investigation. US government while condemning the attack, have assured us that they are conducting a thorough investigation into the matter." 
Baglay also mentioned that "We also must not forget the noble and courageous gesture of the young American Ian Grillot, who risked his life while countering the shooter." 
Srinivas (32), who was working at GPS-maker Garmin headquarters in Olathe, was shot dead by a US Navy veteran, Adam Purinton, 51, in a crowded bar of Kansas City in an apparent hate crime incident. 
Purinton shot dead Kuchibhotla while his friend Alok Madasani was injured at a pub in Kansas.
The body of Kuchibhotla was flown to India and cremated on Tuesday in Hyderabad with grieving relatives, friends and neighbours gathering for the last rites.
While US President Donald Trump is yet to comment on the shooting, White House press secretary Sean Spicer said last week that it was too early to call the act a hate crime.
Former US secretary of state and Democrat candidate for 2016 US presidential elections Hillary Clinton has urged Trump to speak up on the racially motivated shooting.
"With threats & hate crimes on rise, we shouldn't have to tell @POTUS to do his part. He must step up & speak out," Clinton tweeted.