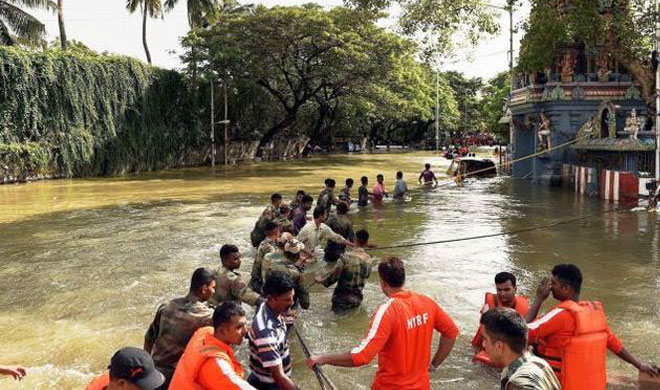 The Centre has rushed 10 NDRF teams to flood-hit areas of Bihar and Uttar Pradesh in order to launch massive relief and rescue operations to help those affected in these states.
NDRF Director General OP Singh told PTI that while five teams are being airlifted for immediate deployment from its base in Odisha to Uttar Pradesh, the rest five are being picked by choppers from Bathinda in Punjab and will be sent to Bihar.
"These fresh teams will be launched into operation by early tomorrow," the DG said, adding they would be equipped with boats and essential items like medicines.
Singh said the teams will be in addition to the 56 such contingents which are undertaking flood combat operations in these two states, besides Rajasthan, Madhya Pradesh and Uttarakhand.
The DG also briefed Union Home Minister Rajnath Singh with full updates of the flood situation in these states late in the night.
In order to launch massive operations in the two worst-affected states of Bihar and Uttar Pradesh, the NDRF has created on-ground control rooms in these two states and deputed two senior Deputy Inspectors General (DIGs) SS Guleria (Patna) and RK Rana (Varanasi) to take control of the situation.
Earlier in the day, More than 26,400 people have so far been rescued by the NDRF from the flood-ravaged areas in Bihar, Rajasthan, Madhya Pradesh and other states.
"So far, the NDRF teams have evacuated more than 26,400 people from various flood-prone areas in the country this monsoon season. 

Besides the rescue work, these teams have provided medical care to the more than 9,100 people in these States," the NDRF said.
In Bihar yesterday, NDRF teams evacuated 3,400 people from Didarganj, 580 from Bakhtiyarpur, 545 from Danapur, 380 from Chhapra, 355 from Vaishali and 15 from Maner in Patna.
The NDRF said 11 flood rescue teams rescued 275 people from Ballia, 275 from Varanasi and 325 from Chitrakoot in UP on yesterday.