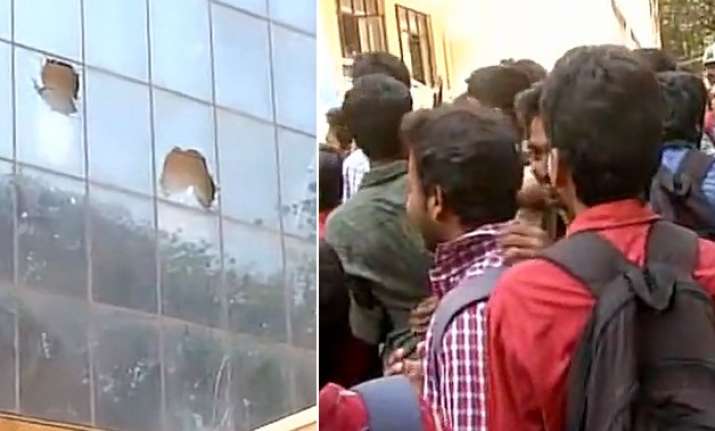 Bengaluru: At least 40 officials of Karnataka pre-university board were suspended today over the repeated leak of Class 12th Chemistry question paper earlier in the day. The leaked question paper was of the second year pre-university course (PUC) re-exam which is now scheduled to be held on April 12.
"I have suspended 40 officials of the PU examination division and ordered an inquiry into the leak of the chemistry question paper for the re-exam that was re-scheduled today (Thursday) but cancelled," Karnataka Primary and Secondary Education Minister Kimmane Ratnakar told reporters.
Following the leak of paper, the board postponed the Pre-University (equivalent to Class 12th) Chemistry examination for the second time in the last 10 days. The exam was originally held on March 21 but was cancelled and re-examination scheduled for March 31 following a question paper leak.
"We have cancelled the exam after police alerted us that the question paper was being circulated in Bengaluru and Tumakuru," pre-university board director Pallavi Akruthi had said.
Students and their parents staged a protest outside the Department of Pre-University Education (DPUE) and pelted stones at the building. They also demanded the resignation of Education Minister K Ratnakar.
Protesting students also raised slogans against the state government and said that the Education Ministry is ruining their future. "They once again want us to write the examination. Still, the paper got leaked. We asked whether these papers would also get leaked. They assured us saying no such things will happen. Then, why has this happened?" asked one of the students.
"We will find out who is responsible for this," Karnataka CM Siddaramaiah replied when asked about the question paper leak row.
The parents also expressed displeasure over the repeated 12th standard question paper leak.
The Chemistry paper was leaked near an exam centre in a women's college at Ballari and at a state-run college at Malur in Kolar district.
According to DPUE, they were informed early this morning about the question paper leak by CID officials.