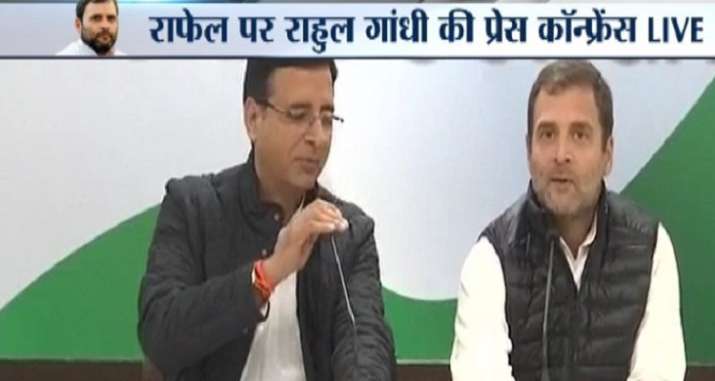 Shortly after being stopped by Lok Sabha Speaker Sumitra Mahajan from playing a purported audio tape of a Goa minister during the debate over Rafale issue, Congress president Rahul Gandhi claimed that Goa Chief Minister and former Defence Minister Manohar Parrikar was 'effectively blackmailing Prime Minister Narendra Modi'. 
Speaking to reporters during a press conference at Congress office in New Delhi, Rahul Gandhi said he was ready for a debate with PM Modi over Rafale deal. He stressed that the tape was authentic.
"I dare Modiji for a debate over Rafale deal...if he has the courage to discuss the issue," the Congress chief said.
"They keep asking the source behind Congress' Rs 1600 crore per aircraft figure, let me tell you that Jaitleyji in his speech in Parliament had said the deal is Rs 58000 cr, so divide this by 36, what figure do you get? Rs 1600 crore," Rahul Gandhi said.
ALSO READ: Rafale debate in Parliament: The 'Q' and 'AA' of Rahul Gandhi-Arun Jaitley war of words
"If prices of Rafale deal was brought down as claimed by Jaitley why did we not buy 126 aircraft or more, asks Rahul. We will definitely investigate the Rafale deal," he said when asked whether there will be a probe into it if Congress comes to power.
Earlier in the day, sparks flew between the Congress and the Government  over Goa Chief Minister Manohar Parrikar's purported claim he had a file on the Rafale jet deal "lying in his bedroom" and Rahul Gandhi making an attempt in the Lok Sabha to play an audio tape purportedly of a Goa Health Minister Vishwajit Rane regarding this matter.
As tempers ran high in the Lok Sabha, Finance Minister Arun Jaitley said the tape is 'false and fabricated', asking the Congress president if he can authenticate. Jaitley also asserted that Gandhi may have to face privilege motion and even expulsion in case the tape turns out to be fabricated.
Parrikar on his part termed the audio clip cited by the Congress on the Rafale deal as a desperate attempt to fabricate facts after the Supreme Court exposed the 'lies' of the opposition party.
No such discussion as cited in the audio clip ever came up during the Cabinet or any other meeting, said Parrikar, who was the defence minister when India and France signed a deal for the purchase of fighter aircraft from France.
Watch video: