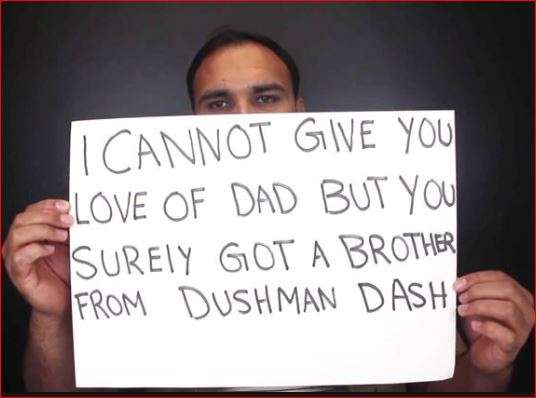 Delhi University student Gurmehar Kaur, daughter of a martyred soldier, who criticised the ABVP for allegedly threatening students and spreading violence, has received support from a Pakistani man Fayaz Khan. 
In a video post on Facebook, Gurmehar Kaur was seen holding a placard which read, "Pakistan did not kill my dad, war killed him."
Coming out in support of Gurmehar Kaur, Fayaz Khan, a Pakistani national who presently lives in Australia, uploaded a video on YouTube in a similar format, stating that he has "seen war and death very closely in my home" and sympathises with Kaur.
The video has gone viral on social media. 
Fayaz Khan calls himself Gurmehar Kaur's brother from the "dushman desh" (enemy nation) who is "surrounded by thousands of Gurmehar Kaur".
Underlining the need to work for better understanding and education, Fayaz Khan vows to fight the restrictions between the two neighbouring states.
"Peaceful conditions between the two countries will mean no one else would have to suffer the loss of losing a loved one through war," Fayaz Khan said in the video.