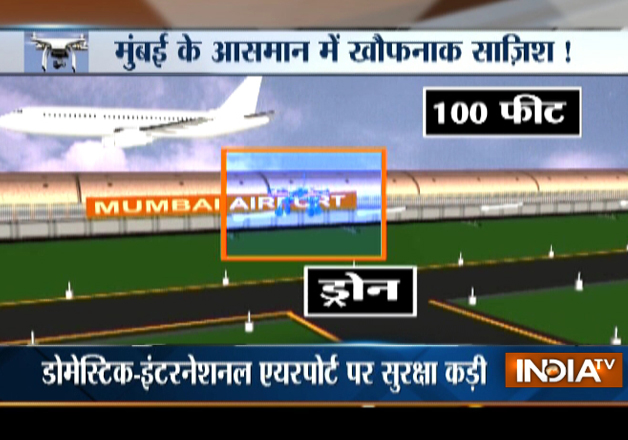 Mumbai has been put on high alert after an IndiGo pilot reported seeing a drone while landing at the city airport yesterday evening. 
Ashish Ranjan, pilot of Indigo Airlines flight 6E-755 from Dehradun, told authorities that he spotted a drone some 100 metres below the aircraft on Kurla side, while landing at Chhatrapati Shivaji International Airport at around 7.30 PM. 
The pilot alerted the Area Traffic Control (ATC), who contacted the police. 
CISF control room confirmed that Ranjan saw a drone some 100 feet below the plane at Kurla side during landing and the drone was blue and pink in colour.
It was around 3.5 kilometre east side, they said.
Immediately after the sighting the drone the security personnel were alerted and asked to be vigilant.
A senior police officer said an alert has been issued in this regard and a high-level probe is on. Local police and other agencies investigating the matter.
The information was forwarded to the Intelligence Bureau, Anti-Terrorism Squad, Special Branch of police and Crime Branch, a police officer said. 
Recent advisories from Intelligence agencies had said that terrorists could use drone-like objects to launch an attack in Mumbai. Drones, remote-operated aircraft, paragliders and balloons are banned in the city skies.