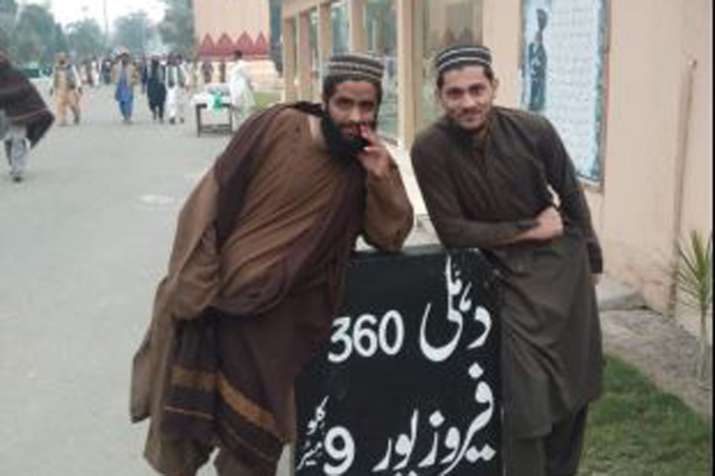 The Delhi Police has issued a terror alert with a photo of two suspected militants believed to be hiding in the national capital. The photo shows two bearded men wearing dark-coloured kurtas. The men are seen posing next to a milestone which states 'Delhi 360 km, Ferozepur 9 km'.
Ferozepur in Punjab is close to India-Pakistan border.
It appears that the photo has been clicked at some border check point as Pakistani flags could be seen in the background. 
The Delhi Police's alert has come nearly a week after the Punjab Police sounded an alert over intelligence inputs that said six to seven Jaish-e-Mohammad terrorists 'could be moving towards Delhi' from the state.
"According to an input, a group of 6-7 JeM terrorists are reportedly in Punjab, India (possibly Firozpur area) and are planning to move towards Delhi from Punjab side," a  letter, issued by the office of the Punjab Inspector General of Police (Counter Intelligence) to state security agencies, said. 
"There is a need to review and strengthen the second-line-of-defence along the Indo-Pak border and to coordinate closely with BSF and other police/defence establishments in your areas," it added. 
The letter had come in the wake of an incident in which four people hijacking a taxi at gun point on November 13. The suspects hired a Toyota Innova from Jammu but forced its driver out and drove off. The incident which took place near Madhopur had sparked fears of Pathankot-like terror attack. 
Pakistani terrorists had attacked the Indian Air Force's Pathankot airbase on January 2, 2016 killing seven security personnel. Four terrorists were gunned down in the operation. 
WATCH: Delhi Police releases photo of 2 terrorists hiding in city