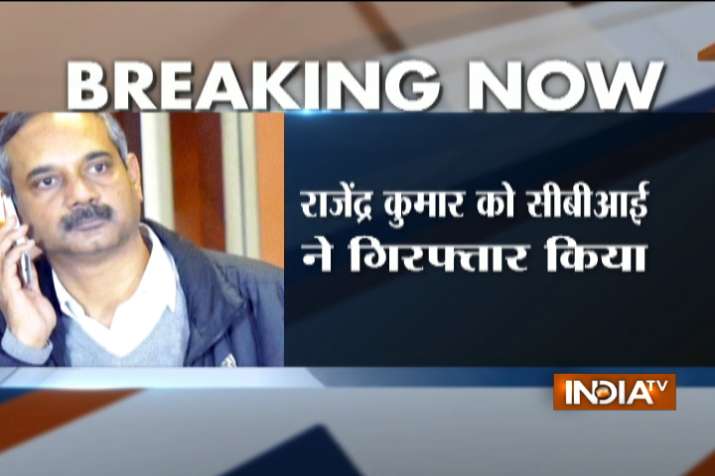 New Delhi: Rajendra Kumar, the IAS officer and Principal Secretary to Delhi chief minister Arvind Kejriwal, whose office was raided earlier this year kicking up a storm between the CM and Prime Minister Narendra Modi, has today been arrested by the Central Bureau of Investigation (CBI) on charges of corruption and impropriety.
A scrutiny of his email account earlier had resulted in the discovery of five audio recordings pertaining to the period of 2011-13 which carry his purported instructions to the officers handling tenders and contracts to allegedly manipulate and favour Endeavour Systems Pvt. Ltd., which is also named in the FIR.
"Allegations are related to bribery and abuse of position against them, further probe is underway," CBI Spokesperson RK Gaur told media.
Four others who have also been booked by the CBI are Tarun Sharma, Sandeep Kumar, Dinesh Gupta and Ashok Kumar.
Rajinder Kumar has emerged as the kingpin of the scam after his company started activities in 2006.
Endeavour Systems was the front company of Rajinder and Ashok Kumar ( his school mate) and the Directors were Dinesh Kumar Gupta and Sandeep Kumar.
The case came to light after a complaint by another senior bureaucrat Ashish Joshi who accused Kumar of misusing his position and power during the Congress rule by forming Endeavours Systems Pvt Ltd, a private company, getting it empanelled with public sector undertakings and pushing for contracts without proper tenders being issued.
Kumar was earlier booked under 120-B of IPC (criminal conspiracy), and 13(2), 13(1)(d) of the Prevention of Corruption Act (Criminal conspiracy, criminal misconduct etc) for allegedly favouring a private company in five contracts worth Rs 9.5 crore during 2007-14.
However, after CBI's investigation, the total amount has come out be Rs 50 crore.
"The accused allegedly facilitated award of contracts worth Rs 9.50 crore (approx) to the said company through ICSIL (Intelligent Communication Systems India Limited) and misused his official position as public servant.
"The accused were instrumental in award of projects to the said private company in Delhi Transco Ltd; Health and Family Welfare Department, GNCTD; Delhi Jal Board and Department of Trade and Taxes, GNCTD," CBI had said in the statement after the registration of the case.
Soon after the CBI raided the office and residence of the accused, Kejriwal claimed that the attack was actually directed at his office. The Modi government, he alleged, was looking for a file pertaining to a DDCA scam that implicated Finance Minister Arun Jaitley. 
The CBI said that it has registered a case against Kumar and others on allegations against the officer that he abused his official position by "favouring a particular firm in the last few years in getting tenders from Delhi government departments".
The raid on the office of the bureaucrat had evoked strong reactions from Kejriwal, who launched a scathing attack on the Prime Minister, terming him a "coward and a psychopath".