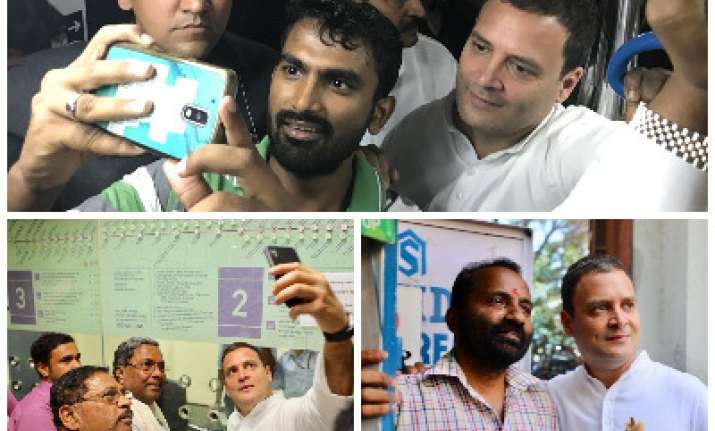 Travelling in a Metro train to walking down the popular streets of Bengaluru and having kulfi from a roadside ice cream parlour, Congress president Rahul Gandhi on Sunday did it all in "aam aadmi" style.
Shedding the VVIP trappings, apparently to reach out to the voters of the country's IT hub for the May 12 Assembly polls, Gandhi freely mingled with commuters in the Metro train as he travelled from the station at Vidhana Soudha, the state secretariat, to M G Road, a party source said.
He was accompanied by Chief Minister Siddaramaiah, AICC general secretary K C Venugopal, who is also in charge of party affairs in Karnataka, state Congress president G Parameshwara and Rajya Sabha MP Rajeev Gowda.
The Congress president bought the ticket at the station and took a selfie with the chief minister before boarding the jam-packed train.
During the journey, he spoke to the commuters, who were all thrilled to have a group of VVIPs amongst them, the source said.
After alighting from the train, he walked the MG Road and cobblestoned Church Street, a popular stretch in the central business district, dotted with pubs and restaurants, which acquired a grand face lift recently.
He also visited 'Book Worm', an iconic book store, which is considered a treasure trove by bibliophiles.
The source said Siddaramaiah bought six books for Rahul Gandhi, which included 'A History of God' by Karen Armstrong, 'The Art of Living' by Thich Nhat Hanh and 'The Goat Thief' by Perumal Murugan.
Gandhi also went to the nearby popular food joint Koshy's on St Marks Road and had snacks.
The proprietor of the restaurant showed him pictures of his great grandfather and the first prime Minister Jawaharlal Nehru and his grandmother and former prime minister Indira Gandhi relishing food there, the source said.
The Congress president also savoured kulfi from a roadside ice cream parlour outside Koshy's.