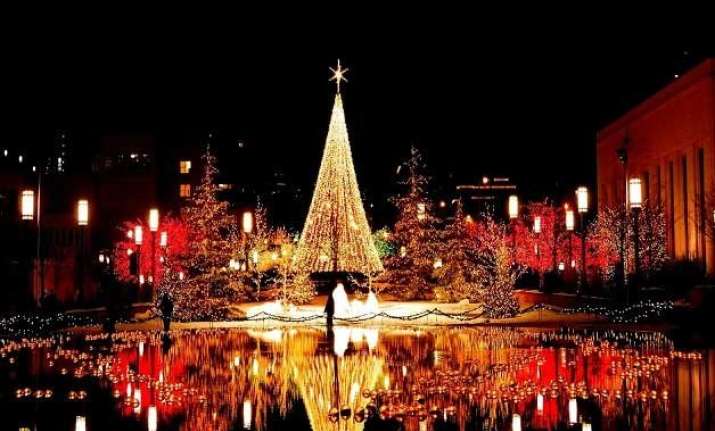 Panaji: While the entire nation is back on track after the long holiday period, Goa has again begun to celebrate Christmas. Its seven days into the New Year and the Goans have gone back to the festive mood.
It's because they are celebrating the traditional Russian Christmas. This one is celebrated 13 days after the actual Christmas that is on 25th December.

It is because the Russian Orthodox Church observes the Julian calendar. Over the last few years, the increased influx of Russian tourists in Goa has started a trickle of interest about the belated (for the followers of the Gregorian calendar) Russian Christmas.

"I generally do not miss a Christmas at home. But my holiday was scheduled suddenly. It is strange to know that people here do know about Russian Christmas," Levchenko, who hails from Moscow and is here on a winter break, told IANS.

"Russians account for at least 50 percent of the entire tourists that are arriving in Goa," Victor Albuquerque, the honorary Russian consul for Goa, said.
The Russian Christmas is celebrated with families attending a midnight mass, followed by a feast at home, which includes traditionally cooked meat and sweets

Park Hyatt Goa, in Arossim in South Goa, which has been organising a Russian Christmas every year has a celebration lined up this time, replete with music, food and decor, all set to Russian tastes.

"The theme for the evening is Starry White Christmas and it will be held at the Magical Forest. We have delightful festive buffet spread with live entertainment - Russian dancers and a DJ playing Russian tracks to add to the Magical experience," a hotel spokesperson said.

According to the five star resort's Chef de Cuisine Trivendra Rawat , "Our offerings in menu will have choices of soups with assortment of breads, cured meat and cheese. Live grill counters, which consist of a wide array of sea food, red meats, dairy and vegetables; carving station with suckling pig and big joints of meat and whole turkey with their classical accompaniments."

Apart from some Asian preparations, there would be pasta counters and Indian food to cater to international travellers. 

"There will be huge display of desserts consisting of some classical Russian desserts such as open and closed end pie, cakes, local sweets, exotic fruits and international array of sweets to pamper each guest as an individual to mark this auspicious eve known as birthday of Jesus," Rawat told IANS.

Goa is one of the top beach tourism destinations in the country and draws over three million tourists, half a million of whom are foreigners.

Goa's conventional tourist season starts in October and winds up in March, when the mild winter sun works as a good break for travellers from Russia, Britain, Germany and other European countries from the harsh winter.