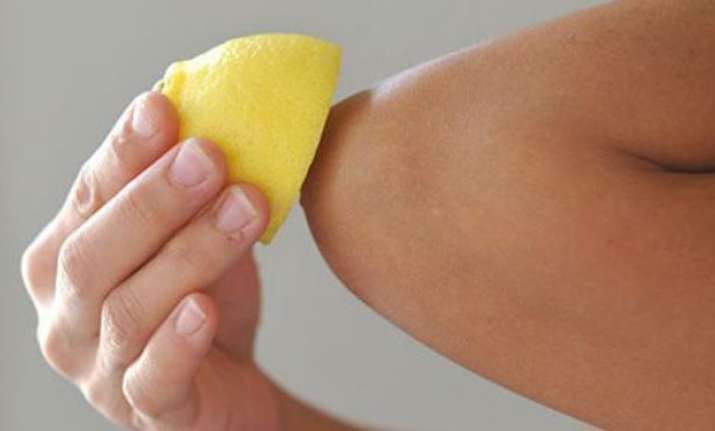 Don't we hate that dark patches on knees, elbows and ankle? The skin on those parts is usually darker and thicker than the rest of the body. Experts say that elbows and knees are subjected to more friction, bending, rubbing and stretching, hence the skin gets inflamed and thicker. Don't let those patches come in mid of your fashion trends. Without getting conscious, follow these home remedies to have even toned elbows and knees.
* Bleach your knees, elbows and ankles. Additionally if the patch is a bit more darker, you could use lemon. Squeeze the lemon and put some sugar in it. Now, rub gently to remove darkness. You can also use salt instead of sugar.
* Take a tablespoon of salt, add a few drops of lemon juice and a few drops of honey. Mix it well and scrub your dark patches. It will not only provide you relief from dark patches but also give you soft skin. 
* Take a tablespoon of grated raw papaya. Add calamine and a few drops of pineapple juice to it and scrub. Use it regularly to get the best results. 
* Apply potato juice and leave it overnight. Repeat it for a couple of weeks and see the difference. 
* Baking soda works effectively to get rid of dark patches. Take baking soda and add a few drops of milk to make a thick paste. Apply it, see the results.
* The most effective and fruitful method is multani mitti (fullers earth) that has the potential to not only reduce the skin darkening but also fight skin infections.
* Mix a few drops of ylang ylang essential oil with castor carrier oil, and apply on the dark patch. They are rich in vitamin E and work efficiently on the skin. Opt for cold pressed oils as they help maintain all the essential nutrients in the oil which otherwise could be lost when heated.
As those areas of body are drier, don't forget to moisturise them on a regular basis. Also apply sunscreen on your elbows and knees to prevent them from getting darker. Exfoliating them can reduce pigmentation.
(With IANS inputs)