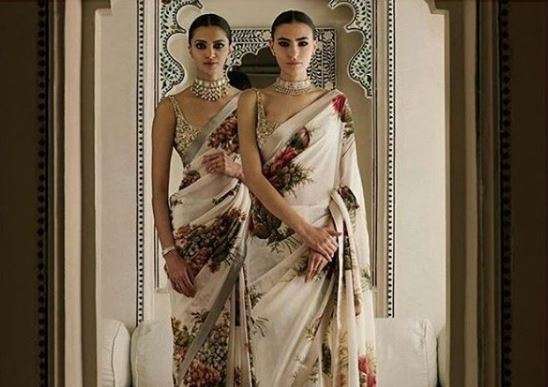 Neither sporting a handloom sari is an easy task nor pairing it with the right kind of jewellery. The right combination of jewellery, accessories and a sari can give you the classy traditional look. Wear a heavy, big pendant with a plain solid hued sari or a simple choker with your silks, experts suggest.
* Add style to your ethnic office wardrobe with the fashionable handloom sari be it solid-coloured, dual-toned, woven, beaded, tussle-work, hand-drawn motifs or in applique. Team it with big earrings or big, chunky necklaces to look more graceful.
* Take out those chiffon wonders available in a wide gamut of colours. They are your best bet to look both sensual and sophisticated at the same time. Adorn your hair with a hairpin for a day at your workplace.
* Invest in the simply silk. The authenticity of the various legends around its origin aside, the sheer luxuriousness of silk remains indisputable. Its richness and finesse have made silk an instant favourite for festive occasions and weddings. Add a pleated, structured drape and portray an equal mix of poise and power in a corporate setting. You can team a simple maangtika or a choker with the sari if out for an occasion.
* Linen saris are making a statement, emerging as an alternative to six yards of silk and cotton. The scope of experimentation with the blouse is just innumerable. From a striped crop top to your favourite solid tank, mix-and-match is the key for rocking fun Fridays at work. For more swag, flaunt jewellery inspired by Lord Shiva, which looks unique and powerful.
* Don't want to step out of your comfort zone? Cotton and viscose saris will be your go-to garments if you like it absolutely fuss-free, minus any loose hanging pallu and toppling bottom pleats. Big win-win is that blended saris are fashionable, comfortable and easy to manage.
(With IANS inputs)
For all latest news, keep checking our Facebook page