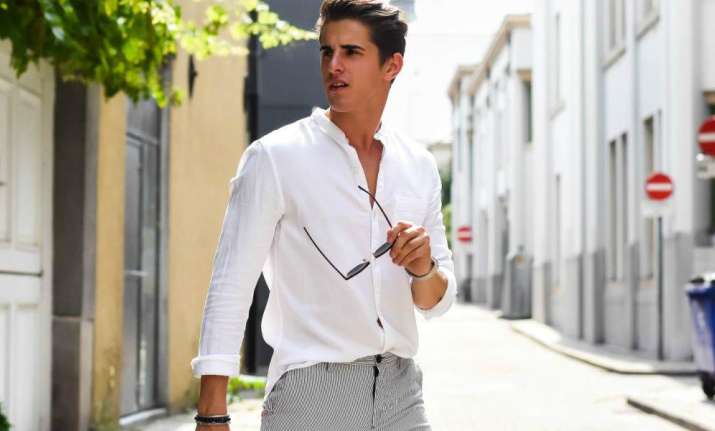 Summer has kick-started in style, making dressing up for office a really tough work. Appearance matters but dressing professionally for workplace in warm and humid weather is quite hard. By opting trends like pastel shades and mix-matching outfits, you can ease your problems. Here are some tips by experts which you can follow
* Pastel and neutral coloured shirts like ivory and grey can be worn to get an elegant look and since it does not absorb heat, it is soothing to the eyes.
* Printed shirt outfit or light check shirt is the best option for men, as it gives them a bold look. 
* Men can wear a light blazer over their vest at the workplace as it enhances the personality.
* Formal shirts over pencil trousers or narrow pants can also be worn in order to look modest and elegant at workplace. This creates a formal and sophisticated look.
* One can wear khaki pants to the office and can uplift their fashion statement at the workplace. 
* Light coloured formal suit can also be worn during summer as it gives a formal touch to an individual. Nowadays, it is widely chosen by man, as it is more trendy and stylish.
* White shirt always work at office, as it repels sunlight and is soothing to the eyes.
* Switching on to blue and gingham can make an individual more fashionable and professional. It not only adds bold colour to the outfit, but also enhances the outlook of an individual.
* If you are a suit person go for a light fabrics like cotton, linen or any other breathable stuff. Also choose light colours to stay comfortable during the sweltering days.
* Another way to face summers in style is to stick with a classic outfit that works anywhere and everywhere. A lightweight semi formal white shirt with grey or blue check pants will keep you cool in the hot days
* For meetings and formal events, an unstructured Navy blazer is just perfect. This is one of the most versatile, stylish, and comfortable pieces your wardrobe should have.
* If you are required to wear ties to work, go for a silk-knit one for summer.
(With IANS inputs)
For all latest news, keep checking our Facebook page