Follow us on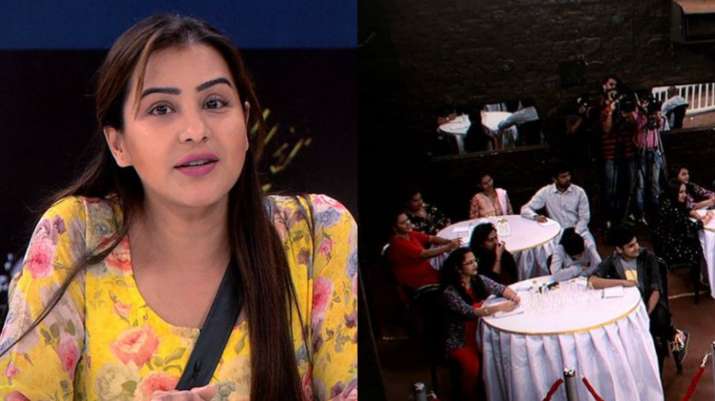 Finally, Bigg Boss 11 has got its top five in Vikas Gupta, Hina Khan, Akash Dadlani, Shilpa Shinde and Puneesh Sharma. In last Weekend  Ka Vaar, Luv Tyagi got eliminated from the house and this made Hina quite emotional. She gave him a warm farewell hug wishing him all the luck for his future. Last night episode also saw Aiyaary stars inside the house for the promotion of their flick. Sidharth Malhotra, Manoj Bajpayee and Rakul Preet Singh entertained audience with their antics.
In January 8 episode, housemates face some tough questions by journalists which makes it an action-packed episode of finale week. 
11:26 PM: Vikas and Hina say that Puneesh is supporting Shilpa in order to get some votes from her huge fan following. In next episode, viewers will see Arshi Khan re-entering the house.
11:14 PM: Hina is questioned about body shaming and slut shaming which she has done inside the house. The actress denies any such allegation and tries to clarify. The media session gets over. Meanwhile, Shilpa gets upset over accusations by housemates, she also thanks Puneesh for supporting her.
11:02 PM: A journalist questions Akash about his changing equations with 'maa' Shilpa Shinde. He answers that because of competition, things have changed. Answering a question about his on-off relationship with Shilpa, Vikas said that maintaining professional terms is his priority. Hina and Vikas target Shilpa over not performing in the task. Housemates start fighting in front of media persons. While Hina targets Shilpa, Puneesh jumps in her defence. Media persons applaud when Puneesh supports Shilpa while she bursts into tears.
10:52 PM: Bigg Boss asks contestants to visit activity area where members of media are waiting for them. Answering a question, Puneesh tells that he came in the house keeping in mind the target of one month. When Hina is asked about the tag of 'arrogant' which she has earned while her stay inside the house, she denies. She clearly states that she isn't egoistic because of her work experience. Interrupting her, Vikas says Hina intentionally forgets things.
10:48 PM: Bigg Boss announces last nomination and puts all five contestants in danger zone. Shilpa tries to instigate Vikas and group, however as earlier decided no one reacts.
10:42 PM: Hina asks Akash how to make egg curry. Meanwhile, in the other corner of house, Shilpa weeps and asks Bigg Boss which task she didn't perform. Puneesh comes and consoles her. Vikas tells Akash and Hina not to fight with Shilpa in any case. Also, Hina tells Vikas that Shilpa is going to win the show and she is 99% sure about this.
10:30 PM: Shilpa decides to cook for herself and Puneesh as Hina calls her unhygienic. Hina, Shilpa and Vikas fight over kitchen duties. Hina says that Shilpa has become over confident because of huge fan following. House gets divided into two groups- Shilpa, Puneesh and the other one is of Hina, Vikas, Akash.
Keep checking our Facebook page for all latest updates