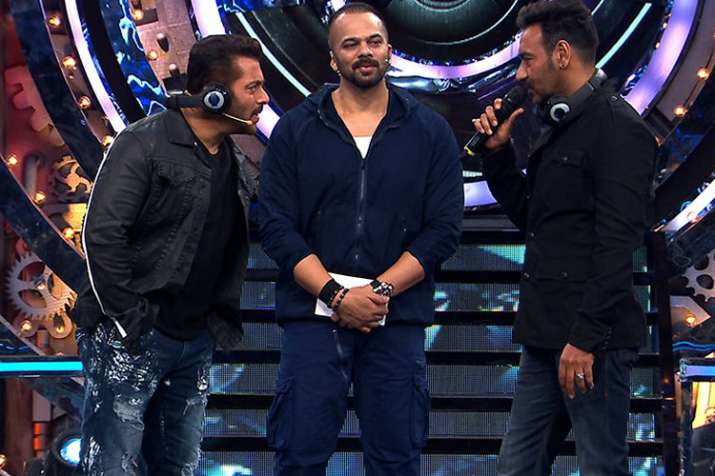 After grilling housemates yesterday on Bigg Boss 11, superstar Salman Khan looked in funny mood on Sunday episode.  He started the show telling viewers that Priyank Sharma has been evicted from the house.  He then interacted with housemates and informed them that Zubair Khan, who was taken out of the house due to medical issues, is doing well now. The actor warned Arshi Khan to mind her language while talking to others. He then introduced a game which was to be played between two contestants. Arshi and Sapna Chaudhary played the game.  Both of them had to fight verbally in first round and rest of the housemates were the decision makers.
Sapna won the first round. In the second round both of them had to fight. Sapna again won. In the next round, the contestants were blindfolded and then were asked to fight. Sapna emerged as the clear winner. After both of them entered the house, housemates cheered for Sapna whereas Arshi looked disappointed. She was seen engaging in conversation with Shilpa Shide telling her that she would leave the game.
Later, Rohit Shetty's Golmaal Again teams entered the house and housemates were asked to avoid them. Ajay Devgn, Salman and Rohit had fun on the stage. The trio gave many funny moments to the viewers. When the entire team was on the stage, Salman asked Golmaal team to dub some scenes from the Bigg Boss house.
Arshi realized her mistake and was seen reconciling with Hina Khan. Jyoti Kumari, Bandagi Kalra, Shilpa, Arshi and Zubair were nominated this week. Salman announced that Jyoti and all ladies were safe.  Zubair was eliminated from the house.
This week's nomination process will be conducted in the upcoming episode.