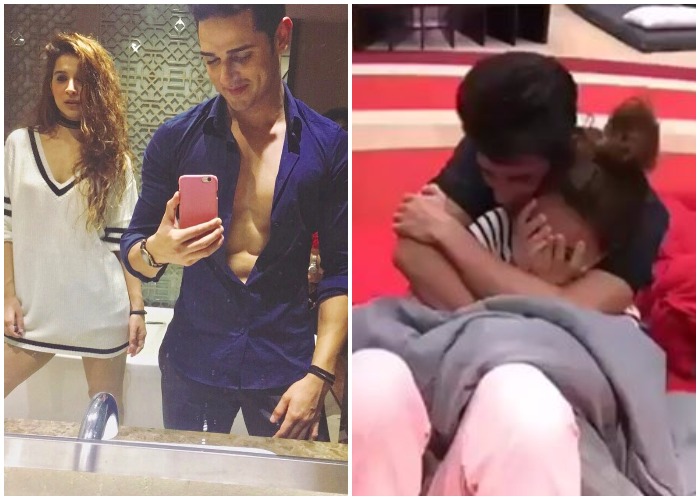 Bandgi Kalra and Puneesh Sharma are hogging headlines, right from the moment they decided to be a couple on Bigg Boss. Their PDA grew from just hugging to sliding under each other's sheet when the lights are off in the house. Even after being warned a number of times by Salman Khan, couldn't keep their hands off each other. But their adorable chemistry is making the families fret who watch the show at a prime time on TV. After watching Tuesday's episode, it seems like Bandgi-Puneesh is not the only mushy couples left on the show.
As the episode was approaching the end, Priyank Sharma and Benafsha Soonawalla were spotted sleeping in the same bed. However, they had different blankets, but at moments, Ben was seen slipping her leg inside Priyank's blanket. Puneesh and Bandgi spot this movement under the sheets and the former wakes Hiten up, pointing towards them.
Bandgi and Puneesh are deeming their relationship to be a 'publicity stunt', just to grab footage on the show.
Benafsha and Priyank were trending the radar since the last week. The duo has developed feelings for each other and they have acknowledged this on cameras as well. Priyank Sharma was committed to his Splitsvilla co-contestant Divya Agarwal while Benafsha was dating Varun Sood. After seeing Priyank and Ben's closeness on TV, Divya decided to call her relationship off. She was utterly disappointed to see such an inconsiderate behaviour of Priyank on TV. Varun Sood has however maintained that he trusts Benafsha and is waiting for her to come outside and tell everything.
This week, Hina, Sapna and Benafsha are nominated for eviction. According to Bigg Boss' condition, Benafsha is nominated for the next two weeks as well, as she chose to opt for this for saving Priyank.