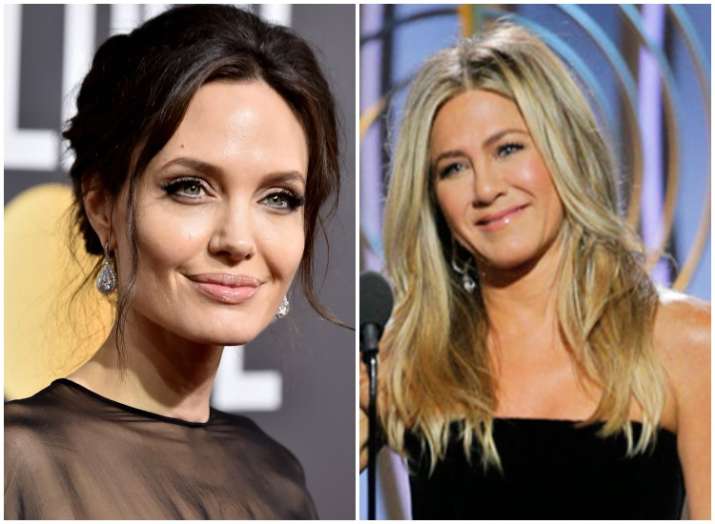 The 75th Golden Globe Awards, that took place on January 7 (January 8 IST), was the first time when Jennifer Aniston and her love rival Angelina Jolie came face-to-face since her divorce from Brad Pitt. All eyes were on them and as expected, the award show left viewers with an unforgettable moment that involves Jennifer Anniston, Angelina Jolie and Dakota Johnson. 
Jenn, who was married to Pitt for five years before he left her for the Tomb Raider star, both presented awards at the ceremony in LA. 
Eagle-eyed Globes viewers were savagely excited to see how Jolie would react, when Aniston joined legendary comedian Carol Brunett to present an award onstage at the Beverly Hilton. One Twitter user managed to capture the exact moment Fifty Shades of Grey actress Dakota Johnson, seated at Jolie's table, tried looking out of the corner of her eye, stealthily, trying to see Jolie's reaction.
This picture of Dakota Johnson sneaking a glance at Angelina Jolie while Jennifer Aniston presents needs to be put in the Met. pic.twitter.com/e9wnSb5H8S

— mary with 2 babies (@MaryPerson) January 8, 2018
Fans are convinced the Oscar-winner was deliberately blanking her former love rival during her turn on stage at the ceremony on Sunday night – and Dakota Johnson saw the whole thing.
Less subtle, however, was actor Armie Hammer's wife, Elizabeth Chambers, who appeared to look straight at her.
The internet went into overdrive at the photo. 
Some fans pointed out that fellow guest Dakota appeared to have been caught looking at Angelina from the other side of the table while Jennifer was on stage.
One Twitter user wrote: ''I love that they gave Carol Burnett a standing ovation so that Angelina Jolie had to give one too which means she basically had to give one to Jennifer Aniston. I'm just petty like that. #GoldenGlobes".
I love that they gave Carol Burnett a standing ovation so that Angelina Jolie had to give one too which means she basically had to give one to Jennifer Aniston. I'm just petty like that. #GoldenGlobes

— Rob (@RealityRobbed) January 8, 2018