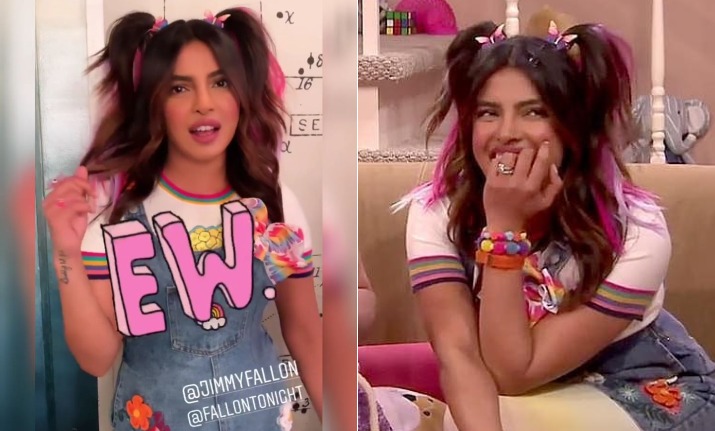 We are accustomed to see Priyanka Chopra in thigh-high gowns or some classy couture. For a change, this time Mrs Jonas picked up a jazzy outfit for The Tonight Show, where she will be seen promoting her film Isn't It Romantic. For the popular talk show, Priyanka picked up a t-shirt, floral denim overall skirt, a pair of yellow and pink leggings and some fancy bracelets. On top of that, she tied her hair in two pigtails with pink hair extensions. The actress was looking the cutest high school girl on the block.
Priyanka Chopra shared the pictures from the EW segment of The Tonight Show on her social media. In the picture, host Jimmy Fallon is also seen in an outlandish avatar. He has transformed himself into Regine Georges from Mean Girls wearing a purple dress and blonde hair wig.
Priyanka Chopra shared the process of her transformation from a fashionista to a teenage schoolgirl on her Instagram stories.
PeeCee's look also reminded us of Harley Quinn from Suicide Squad, which was played by Hollywood actress Margot Robbie. In the film, she wore two pigtails with pink hair extensions along with t-shirt and shorts.
Priyanka Chopra and Nick Jonas recently graced the red carpet at Isn't It Romantic special screening that took place in Los Angeles on Monday. The actress wore a chic off-shoulder gown while her husband looked dapper in black blazer and grey tee.
Currently, Priyanka is on a promotion spree for her upcoming Hollywood film Isn't It Romantic. After making an appearance on The Tonight Show, she graced The Late Night Show with her co-star Rebel Wilson. She shared some portfolio pictures from the sets of the popular chat show.
Isn't It Romantic will release in India on Netflix on February 28.