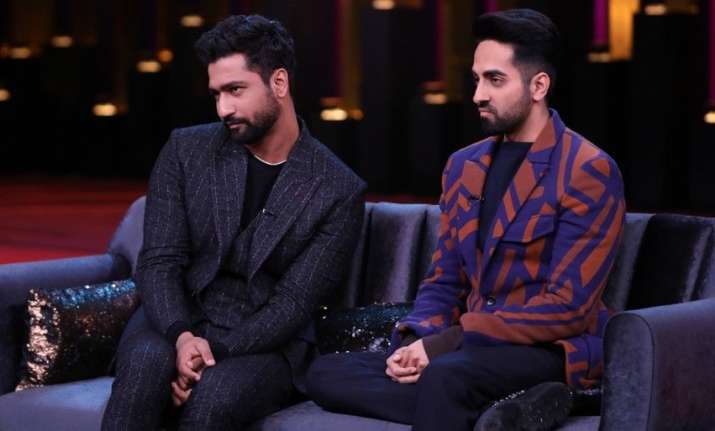 After the fun episode with Diljit Dosanjh and Badshah, Koffee With Karan 6 is here and we can't contain our excitement. Well, we are jumping out of joy because the latest Koffee With Karan episode features two promising actors of Bollywood-Vicky Kaushal and Ayushmann Khurrana. Both the Gen-next actors made their Koffee debut and the promos gave us enough hint about the entertaining episode. While Ayushmann reveals he had donated sperm in real, the Raazi actor opened up about his relationship. Here are the highlights of this fun episode.
9:45 PM: Now, the game round starts! Vicky Kaushal first calls Abhishek Bachchan and then Taapsee Pannu whereas Ayushmann Khurrana calls Bhumi Pednekar. They also compete in lip-syncing Bollywood songs. Vicky Kaushal is the winner!
9:39 PM: And the rapid fire starts! Both Ayushmann and Vicky have a common liking for Shoojit Sircar, Ranbir Kapoor and desi food. We also got to know that the first thing the Masaan actor would notice in a girl is ''how generous her smile is''.
9:31 PM: Ayushmann Khurrana and Vicky Kaushal show off their acting skills and it turns out to be an interesting segment.
9:20: Vicky also narrated an incident when Shah Rukh Khan called him midnight. The superstar called Vicky after watching Lust Stories and he couldn't sleep that night. Vicky's friends revealed that he is a mumma's boy and very bad with picking up hints from a girl flirting with him. Did you know Ayushmann was called Nishant till he was three-years-old?
9:15 PM: Ayushmann revealed that once while interviewing Karan Johar, he asked his number. The director gave a landline number and when Ayushmann called, then someone answered that they don't audition outsiders. Karan replies that it is ''very sweet of him'' that he gave his real number. 
9:09 PM: Vicky Kaushal talks about his ''naya-naya and serious'' relationship. For unversed, the actor has been dating Harleen Sethi.
9:06 PM: Are Ayushmann and Vicky ''achche munde'', asks Karan Johar. Ayushmann reveals he has donated sperm in real-life for a task in Roadies.
9:04 PM: Vicky Kaushal feels ''surreal'' seeing himself on posters. He believes ''god has been kind'' so far.
9:01 PM: Ayushmann Khurrana reveals he hasn't watched even a single episode of Koffee With Karan 6 since 2012. Ayushmann never shared his wish to be an actor with anyone. He rejected five films before his debut movie Vicky Donor.