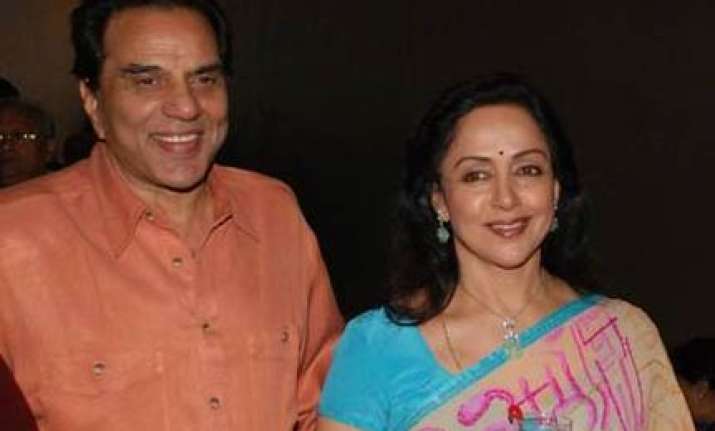 Yesteryear's action her Dharmendra and his wife Hema Malini are literally headed for a clash next January.
The buzz is that Hema Malini's Tell Me Oh Khuda is likely to release on the same Friday as Dharmendra's home production Yamla Pagla Deewana . Both films are slated to release on January 14, says a media report.
The imminent box office clash has sent Hema and her husband into a tizzy. Veeru is trying to persuade Basanti to change the release date of her film to avoid any kind of controversy and ensure a smooth opening for Yamla Pagla Deewana . The actor- producer does not want to give the media a chance to divert from the film and play up a surreal feud in the family.
According to sources, Dharmendra has asked Hema to postpone the release of her film so that both the films get due attention from the media.
Hema seems to have agreed.
The grapevine has it the actress is now planning to release her film after January 14. But people from her production unit said the change in the release date had nothing to do with the release of Yamla Pagla Deewana . " Hemaji has to wind up certain portions of the film and there are several scenes that need to be re- shot in the film," says the source.
 Hema took over the film from director Mayur Puri in July and re- shot many of its scenes. After the director's ouster, Hema has been working on a war footing to complete her daughter Esha's comeback film. The date for release was kept on Makar Sankranti, January 14, but Hema might change it now.
 Tell Me Oh Khuda tells the story of a girl who is in search of her father. While we had enough stories about the father's casting, the latest update about the film is that Dharmendra has finally agreed to play Esha's father in reel- life after much persuasion from the Dream Girl.