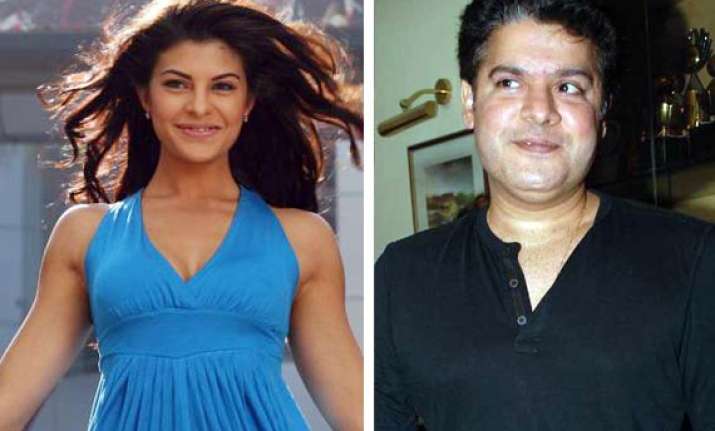 Sajid Khan is wooing his Housefull 2 actress Jacqueline Fernandez who is being referred to as bhabhi on the sets of the film, says a media report.

The former Miss Sri Lanka arrived in tinsel town with her debut flick Aladin opposite Riteish Deshmukh in 2010.

Though the film flopped  at the box office,the genie magic seems to have rubbed off on the lead actress.

One year later, she is  already flooded with offers from big production houses.

With her recent  release Murder 2,  Jacqueline is trying to gain a strong foothold in the industry.

The 26-year-old actress  is being wooed by none other than  her 40-year-old Housefull 2 director Sajid Khan, confirms a very close friend of the filmmaker.

Jacqueline who did an item number for Sajid's Housefull was earlier rumoured to be getting a bit too close to her Aladin co-star Riteish.

In fact,it was learnt that the actor had helped her bag her second film Jaane Kahaan Se Aayi Hai.

The two even went to an award function together adding fuel to the gossip fire. However,both actors had maintained that they were nothing more than friends.

The actress was reported to be dating an industrialist from Bahrain at that time who  owned a couple of malls in UAE.

A source close to Sajid revealed, Jacqueline and Sajid are in a relationship.In fact,people on the sets of Housefull 2 call her bhabhi.

The sparks started flying on the sets of Housefull 2.The director and the actress would often be seen engrossed in a conversation and taking breaks together.

Talking about the lovebirds rendezvous on the sets of the under-production film,the source added, every time there was a break, Jacky would just disappear.

The crew soon discovered that whenever Jacqueline disappeared the director too vanished.It was only then people realised that they were seeing each other.

In fact,the source reveals that Sajid might even settle down soon. Sajid is really serious about her.

Even Farah Khan, Sajid's sister is aware of it.  If things go well,Sajid and Jacky may even decide to settle down together soon enough, informed the source.

Sajid Khan,who is open about most things in life did not deny his relationship with Jacqueline but chose to smoothly avoid talking about it,saying,Have I ever spoken about my personal life publicly.