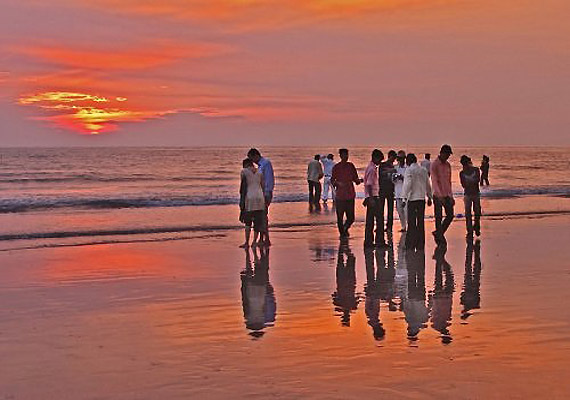 Mumbai, Mar 28:
Bollywood stars living in Juhu Scheme are facing acute water shortage for the past three weeks, reports Mumbai Mirror.
While Hrithik Roshan is away shooting for the superhero project Krrish 3, his wife Suzanne is facing a terrible water crisis.
The Roshans and hundreds of A-list residents of much-coveted Road No 11 and 12 of Juhu Scheme – including Hema Malini, Yash Chopra, Prakash Mehra, Danny Denzongpa and builder Vicky Oberoi – have been facing an acute water shortage for the past three weeks.
On March 11, it was reported that sewage water was flowing out of taps in the posh Juhu locality, sending many residents to hospitals.
Despite repeated complaints to the civic body's Water Department and repeated assurances by the newly elected area corporator Dilip Patel, who incidentally replaced Mumbai's first citizen corporator Adolf D'Souza, the problem persists.
Residents say that the Water Department officials have even stopped answering their phone calls.
Consequently, it is boom time for water tanker owners.
Suzanne Roshan told Mirror, "We are surviving on water tankers. We have given up. We are paying heavy taxes but getting no service. We don't deserve to be treated like this. We are exasperated."
The building's security guard said that the Roshans were calling for a water tanker every day, and that the shortage was costing the society Rs 25,000 a day.
Another resident of Palazzio Apartments, where the Roshans live and own the 8th, 9th and 10th floors, said that for the past three weeks, the building has not received even a-fourth of the normal daily supply of water.
It all began a couple of days before Holi, says actress Esha Deol.
The Deols and a couple of their neighbours on Road No 12 had fallen ill after drinking the contaminated BMC water.
 "Me, my mom (Hema Malini) and my sister (Ahana) fell terribly ill. We received sewage water in our taps for five days. Thereafter, the water supply decreased drastically. It is very annoying. Today, if I want to have an evening bath, I just can't," Esha Deol told Mumbai Mirror.
Puneet Mehra, one of the three sons of legendary producer and director late Prakash Mehra, said, "The water stinks like sewage. And on the days when the water is clean, the pressure is very low. I have made several complaints to the BMC, and so has my society but to no avail. Juhu has had a problem with water supply in the past but this one is the worst. It's been more than 20 days," Mehra added.
Hrithik's high-profile neighbours Vicky Oberoi, a prominent builder, and his wife Gayatri Joshi, who played the lead opposite
Shah Rukh Khan
in Swades, too have become regular clients of water tanker owners.
Their lesser-known neighbours, however, say that not everyone can afford a tanker a day.
Beena, 77, said, "Film stars can afford a tanker every day but we can't. Then there is the problem of the drinking water. We have been forced to shell out a lot of money on bottled water."
NV Parekh, who lives next to the Roshans, said, "I am paying almost Rs 1,100 every day. The BMC water doesn't last beyond 30 minutes."
Last Thursday, Dilip Patel had assured residents that the problem will be sorted out within 2 days.
On Monday, Patel said, "There was contamination near Pushpa Narsee Park earlier this month, so we had to close a valve. The flow of water from the BMC too has been slow."
Shitalaprasad Oriram Kori, deputy hydraulic engineer of western suburb, said that the problem is expected to persist for two more days.
He said, "We are constructing a zone-wise water supply network in Juhu. So the water level in the Veravali reservoir has been brought down. But the issue will be resolved in the next two days."
There are reports that two of Hrithik's leading ladies,
Priyanka Chopra
(Krrish 3), and
Katrina Kaif
(Zindagi Na Milegi Dobara) are hunting for bungalows in the same area.
But with the ongoing water shortage crisis, they might want to reconsider.