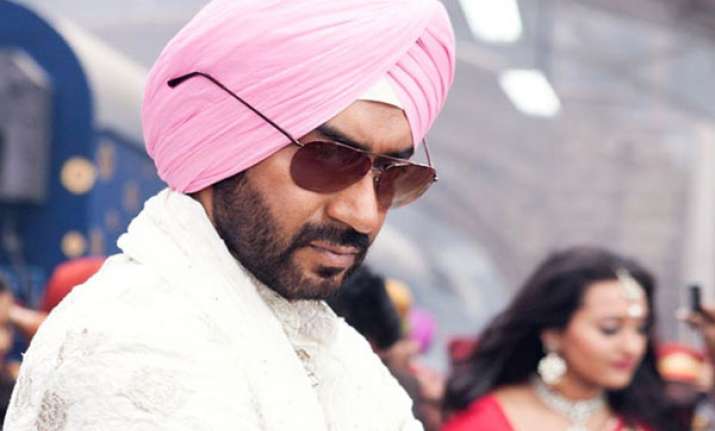 Mumbai, Nov 1: Amidst reports that the film industry wants Ajay Devgn to reschedule the Diwali release of Son of Sardar, which clashes with Yash Chopra's Jab Tak Hai Jaan, the actor today said that he does not see any problem with both the movies hitting the screens on the same day.
"Diwali always has space for two movies. I want both films to work. I don't think there is any issue with that," Devgn told reporters here today.
At a recent press conference of Jab Tak Hai Jaan, Shah Rukh had said that it was unfair to ask anyone to reschedule the release of a film.
Apparently, the film fraternity wanted Devgn to consider postponing his film's release as a tribute to Yash Chopra, after his demise this month.
"Everybody loves his film. Yashji would have wished that the other film should have also done well. All films are important... Be it a big budget one or whatever. Films will overlap and it is unfair on our part to ask anyone to change the date (of film)," Shah Rukh had said.
Also, the Punjabi Cultural Heritage Board (PCHB) had raised certain objections on some dialogues and couple of scenes from Devgn's film, stating it will hurt the sentiments of the Sikh community.
PCHB president Charan Singh Sapra had raised objections to certain dialogues and promos of the movie. Last month, Sapra had written a detailed letter to Devgn pointing out the community's objections.
This culminated in a meeting between the PCHB officials and Devgn as well as one of the producers, Kumar Mangat.
"Every film is rectified... Sometimes its made even better. The creativity of the film has not been affected in any way. The intention of the film is to entertain and not hurt any one's feelings," Devgn told reporters here.
"The objectionable things were very small. The writer, director of the film is Punjabi and even the guy who tied my turban was from Punjab and everyone took care of things," he said.