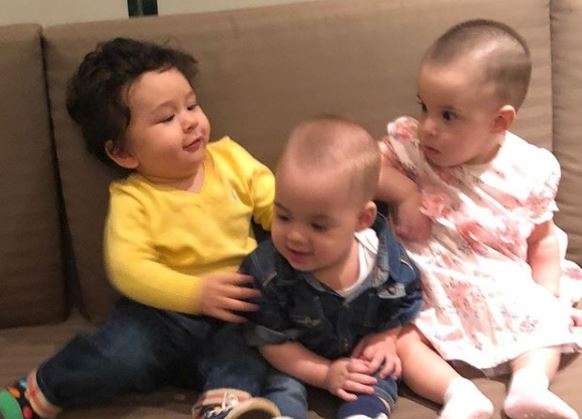 Star kids of Bollywood undoubtedly grab more eyeballs than their parents and we are not kidding! For example, take Taimur Ali Khan. Aren't you in love with the chubby munchkin? Same is the case with Misha Kapoor and filmmaker Karan Johar's twins Yash and Roohi.
It is always a delight to see these tiny tots playing with each other. Their innocent expressions are enough to melt your heart. If Taimur's picture in which he was enjoying in a swing wasn't enough for you, then here's a treat for all fans. Karan Johar has shared a picture on Instagram featuring Taimur, Roohi and Yash. While Taimur and Yash are quite happy, Roohi seems little perplexed. Captioning the photograph, the ace director wrote, ''And a new friendship begins.'' Within 15 minutes of posting the snap, it garnered more than 25 k likes. Fans began pouring comments such as ''aww'', ''cute'', ''adorable'', etc.
Taimur who will turn one-year-old on December 20 is a star just like his parents, Saif Ali Khan and Kareena Kapoor Khan. He became an internet sensation since the day his first picture went viral. If latest reports are to be believed then it will be a week-long celebration for the birthday boy. Earlier, in a conversation with mid-day, his grandfather Randhir Kapoor revealed that preparations are underway at the Pataudi Palace in Haryana. However, the celebration can also be canceled due to death of veteran actor Shashi Kapoor, who was also Randhir Kapoor's uncle. Meanwhile, Roohi and Yash, who were born through a surrogate, mean world to Karan who became father on February 7. While Yash is named after Karan's late father and filmmaker, Yash Johar, Roohi is a rearrangement of his mother's name, Hiroo.