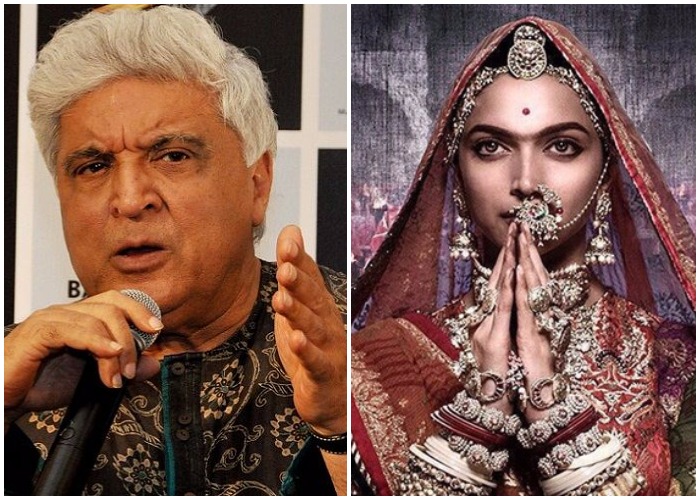 Amidst the ongoing controversy on Sanjay Leela Bhansali's Padmavati, a police complaint has been filed against noted lyricist Javed Akhtar for allegedly insulting Rajputs. According to the reports, FIR has been lodged against the living legend of film industry at the Sindhi camp police station, Jaipur. Javed Akhtar has said that Rajput kings never actually fought against the Britishers in the last 200 years. The complainant has accused Javed Akhtar of insulting the bravery of Rajputs.
On Monday, while speaking up for director Sanjay Leela Bhansali's controversial period drama Padmavati, the lyricist made objectionable remarks against the Rajputs, who have been the flagbearer of protests against the release of film.
"The Rajputs and the Rajwadas never fought against the British and now they are taking to the streets against a film and a filmmaker. All these 'ranas' 'rajas' and 'maharajas' of Rajasthan were serving in the courts of the British for 200 years. Where did their Rajput honour and valour go that time? They have become what they are since they had accepted to serve the British," Akhtar had reportedly said this while speaking to a news channel.
Akhtar also slammed those who are protesting against the film and demanding a ban on its release. His remarks of Rajput rulers didn't go well with the community and it triggered sharp reactions in the state.
Mahendra Singh Mewar, one of the direct descendants of Chittor ruler Rawal Ratan Singh has condemned Akhtar's remark in an open letter. While, Shri Rajput Karni Sena's president Mahipal Singh Makrana has threatened him daring him to enter the state.
"Akthar has lost our respect. From now on he is banned in Rajasthan and if he dares we will thrash him on the streets, " Makrana said.
"Rajputs and Rajwadas have sacrificed their lives and he is mocking our history and saying we were serving the British," he said.
"He does not deserve 'Padharo Mhare Des' treatment any more. He speaks a lot in literature festivals and next time we are not going to allow him to even come to Jaipur and speak," Makrana threatened while talking to newsmen while burning effigy of Javed Akhtar.
"Salman Khan and Akhtar''s views are like that of prostitutes where money matters the most. Their pictures should be boycotted by all Indians."
Makrana is the one who threatened Deepika Padukone of Shurpanakha's fate a few days ago.
Sanjay Leela Bhansali's Padmavati has been facing widespread protests from Rajput Karni Sena and the community in Rajasthan for depicting the queen Rani Padmini in wrong light. The controversy sparked due to a rumour that suggested Alauddin Khilji and Rani Padmini has a romantic dream sequence in the film.