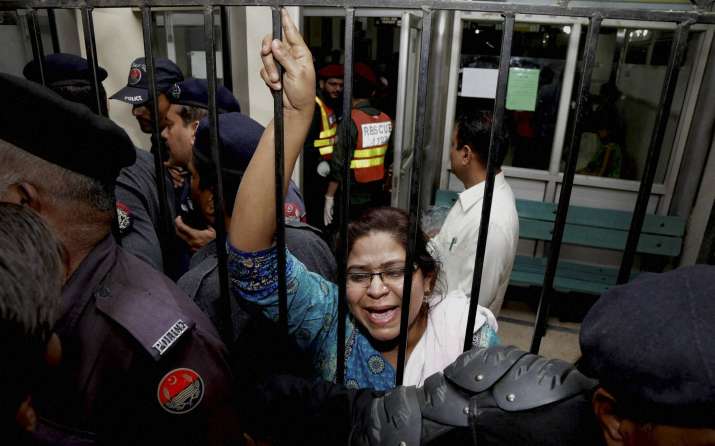 Lahore/New Delhi: India's Prime Minister Narendra Modi, cricketer-turned politician Imran Khan and a host of leaders and celebrities across the subcontinent took to social media to condemn Sunday's suicide blast outside a Lahore children's park that left over 50 dead.
"Heard about the blast in Lahore. I strongly condemn it. My condolences to families of the deceased & prayers with the injured: PM," Modi tweeted from his PMO India account.
Pakistan Tehreek-e-Insaaf leader Imran Khan strongly condemned the blast. "Strongly condemn the terror attack in Lahore in which our innocent citizens including women & children lost their lives."
Veteran Bollywood star Rishi Kapoor said he was "concerned about the blast in Lahore".
"Hope you and your loved ones are safe. My condolences to the victims of this horror," he wrote.
Actor-director Farhan Akhtar termed the blasts "sickening".
"And now women & children targeted in #Lahore terror attack.. Sickening.. thoughts with all affected," the "Rock On!!" actor posted on Twitter.
Junoon guitarist Salman Ahmad wrote: "Nafraton mein ghiray nochein apni hi laash #LahoreBlast" (Confined by hatred, we claw at our own corpses).
"Sad to hear about terrorist attack in #Lahore Zehni ghulami sey kaash hon hum azaad" (Wish we become free from mental slavery).
Pakistani actress Mahira Khan, who is all geared up to make her Bollywood debut opposite Shah Rukh Khan in "Raees", posted: "It's a park for gods sake!! Children on swings!! How can anybody even have the heart to do this. #LahoreBlast."
Hamid Mir, a journalist of Geo TV who in the past faced murderous attempts, termed it a "sad day".
"A sad Sunday in Lahore. 54 people killed 200 injured in terrorist attack at Gulshan e Iqbal Lahore only cowards can attack innocent civilians.
Actress-singer Sophie Choudry posted: "My love & prayers to the people in #Lahore & condolences to all those affected by this horrific blast. No God, No religion is ok with this!"
Pakistani actor-singer Ali Zafar of "Tere Bin Laden" fame said: "Women and children!! Sad sad sad !! Shocked. No words #Lahoreblast"
Cricketer Aakash Chopra tweeted: "Heart goes out to the people in Lahore... stay safe. Stay blessed. #Terror #Terrible"
Pakistani singer Hadiqa Kiani said she was "disgusted" over the attack on children.
"Praying for the families, feeling hopeless. #Pakistan #LahoreBlast.
"These were children, lives are lives but these were children! #Disgusted #LahoreBlast," she wrote.
Awami Muslim League chief and former federal information minister Sheikh Rashid Ahmad slammed Punjab Chief Minister Shahbaz Sharif and asked him where was he and other ministers.
"Donate blood at Jinnah hospital, Sheikh Zaid hospital, Faroq Hospital n Bajwah Hospital Lahore," he urged people.
Pakistani writer Moni Mohsin called it "barbaric". "To target Lahori families out enjoying the open air & festive spirt of these holidays is cruel & barbaric. May their murderers rot in hell."
Former banker and Aam Aadmi Party leader Meera Sanyal wrote: "Terrorists respect no religion & the colour of our blood is the same - be it Mumbai, Lahore, Paris or Brussels."