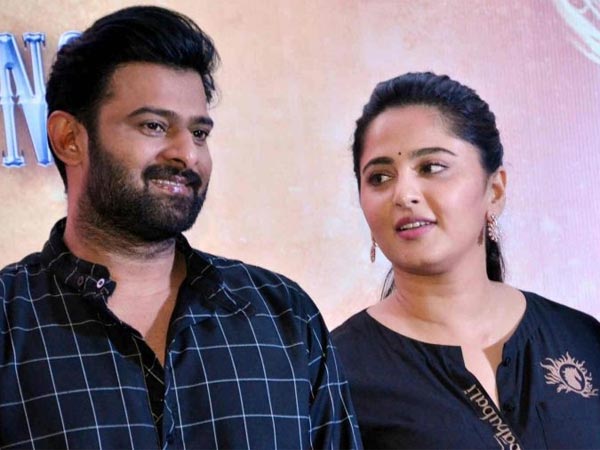 There's no doubt that Anushka Shetty and Prabhas have become the favourite Jodi of the nation after Baahubali 1 and Baahubali 2. After displaying their sizzling chemistry on screen in both the parts of Baahubali franchise, 'Pranushka' are all set to set the screens on fire yet again. Fans are eagerly waiting for every bit of chatpati gossip about the flick. So here's one more. According to the sources, Anushka Shetty has been insisted by the makers to learn Hindi right from the scratch, so that a separate version in Hindi can be released. 
Their upcoming film 'Saaho' will be completely different from their previous venture Baahubali. There would be no swords and machoism, but only love. It's about a young couple caught in today's situation of crisis. Another interesting fact about 'Saaho' is that both the actors have been asked to lose weight for their roles. 
'Saaho' marks Anushka Shetty as well as Prabhas' Hindi debut. There's no doubt that Prabhas and Anushka already have millions of fans across the nation. But their upcoming venture is going to make them permanent in everyone's heart. Their chemistry would be entirely different from what you saw in Baahubali, so it might come to many as a cultural shock, but a pleasant one. 
Also Read: Not Anushka Shetty but this actress was the first choice for Prabhas's Saaho?
According to Bollywood Hungama: "Their chemistry would be sizzling-hot. Baahubali was all about holding back passion. In Saaho Anushka and Prabhas will let it all hang out." The source also mentioned, "It is not about swords and armours. They will play young people of today caught in a situation of crisis. Prabhas and Anushka in 'Saaho' will be so different from how audiences saw them in 'Baahubali'. The concept of culture-shock will be redefined."
Written and directed by Sujeeth, most of the scenes of Saaho will be shot in Mumbai. The movie also stars actor Neil Nitin Mukesh as an antagonist.
For more Entertainment stories click here