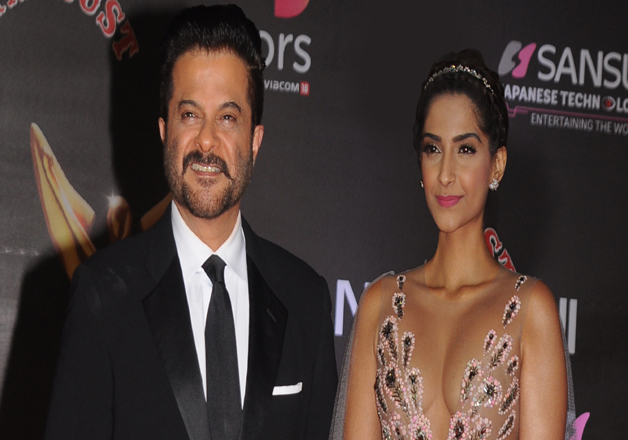 Actress Sonam Kapoor shares friendly relations with her father and actor Anil Kapoor. But, recently Anil did something that made his daughter sad. The actor made a remark on Sonam that didn't go well with her.
It so happened at Sansui COLORS Stardust Awards when Anil Kapoor and Bony Kapoor appeared on the stage to present the award for the Filmmaker of the Year. Directors of 'Neerja' and 'Pink' became the winners, and both the brothers requested the whole crew to join the directors on stage.
While everybody including the Neerja's director Ram Madhvani was on stage, Sonam was talking to some guests at the show ,and didn't come there. When Anil saw this, he asked her to join them saying that 'Apne baap se seekho..' Listening to her father, as an obedient daughter the actress came on the stage but left immediately and gave a miss to her director's speech.
This left many tongues wagging. Was Sonam upset with her father's remark? What was the reason of her leaving instantly? Well, it seems that now Anil has to make things clear to his daughter who clearly seemed sad with his dad's remark.
Sonam was praised by everyone when she portrayed the main lead in 'Neerja'. The movie was based on the story of an airhostess who died saving passengers from terrorists who hijacked the plane Pan Am Flight 73. The movie not only received praises from critics but also did well at the box office.