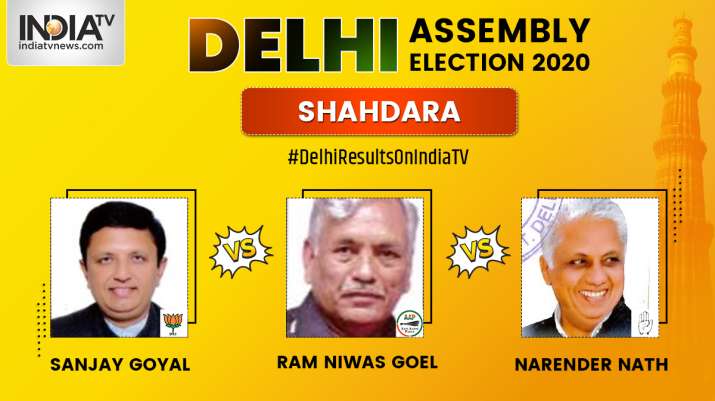 Delhi Assembly Election 2020: Shahdara Constituency Result | LIVE
Shahdara Constituency Result:
Incumbent AAP MLA Ram Niwas Goel won with 65,373 votes against his closest rival Sanjay Goyal of the BJP. Najafgarh assembly is one of the seventy Delhi assembly constituencies in northern India. The ruling AAP fielded sitting MLA Ram Niwas Goyal from Shahdara assembly constituency, a part of the East Delhi Lok Sabha Constituency. Sanjay Goyal is contesting on a Bharatiya Janata Party (BJP) ticket while the Congress has fielded three-time MLA Narendra Nath.
Shahdara Constituency Result: Previous statistics
In 2015, Aam Aadmi Party (AAP) candidate Ram Niwas Goyal won the Shahdara seat. In 2013, BJP candidate Jitendra Singh Shanty emerged victorious, while in 2008 Congress candidate Dr. Narendra Nath won the election.
Voting for the assembly election in Delhi took place on February 8.
Shahdara Constituency Results Updates:
NCT OF Delhi-SHAHDARA
Result Status
O.S.N.
Candidate
Party
EVM Votes
Postal Votes
Total Votes
% of Votes
1
INDU
Bahujan Samaj Party
677
25
702
0.56
2
DR. NARENDER NATH
Indian National Congress
4387
87
4474
3.57
3
RAM NIWAS GOEL
Aam Aadmi Party
61808
295
62103
49.53
4
SANJAY GOYAL
Bharatiya Janata Party
56416
393
56809
45.31
5
ALLAH BAKASH
Rashtriya Jansambhavna Party
223
0
223
0.18
6
NISHANT SHARMA
Proutist Bloc, India
375
0
375
0.3
7
RANJANA MUNESH CHAUHAN
Bhartiya Samajik Nyay Party
195
0
195
0.16
8
VIMLA
Sabse Badi Party
91
0
91
0.07
9
NOTA
None of the Above
405
6
411
0.33
 
Total
 
124577
806
125383