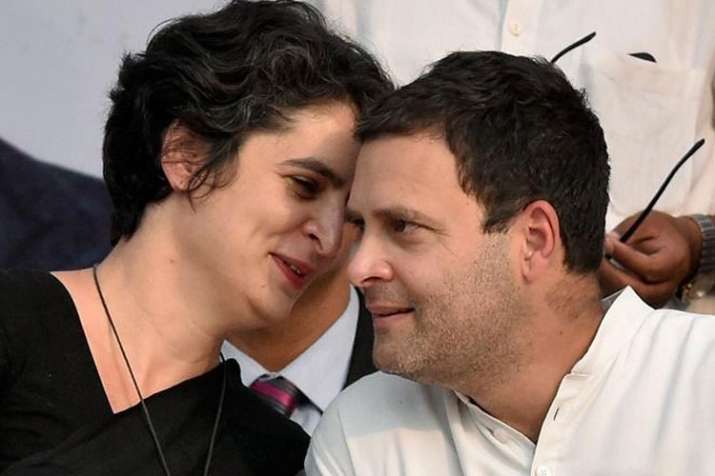 Commenting on Priyanka Gandhi's appointment as general secretary, Congress president Rahul Gandhi said she is a "powerful leader".
"Priyanka Gandhi and Jyotiraditya Scindia are powerful leaders. We wanted the young leaders to change Uttar Pradesh politics," Congress president said.
"We are those who play on front foot, not the back foot," he said. 
"I have sent Priyanka Gandhi and Jyotiraditya Scindia in Uttar Pradesh not for two months. They will work there for long time to bring a change in the state," he added. 
Commenting on Samajwadi Party (SP)-Bahujan Samaj Party (BSP) alliance Gandhi said, "We have no enmity with Mayawati ji and Akhilesh ji, infact I respect them a lot. We are ready to cooperate with them wherever possible. Ultimately the aim of all three of us is to defeat BJP, but yes our fight is to save Congress ideology."
Meanwhile, the Bharatiya Janata Party (BJP) has criticised the Congress party after it decided to appoint Priyanka Gandhi as its general secretary.
BJP spokesperson Sambit Patra slammed the Congress and said it is a party controlled by one family.
"Congress is a party being controlled by one family. Priyanka Gandhi has come in as Rahul Gandhi failed to deliver," said Patra.
She has also been made the in-charge of party's affairs in eastern Uttar Pradesh. The appointment comes ahead of the Lok Sabha elections 2019.
She will take charge of her new responsibility from the first week of February. The party has also appointed Jyotiraditya Scindia as AICC general secretary for UP West.
WATCH VIDEO: 2019 Lok Sabha polls: Priyanka Gandhi appointed Congress general secretary