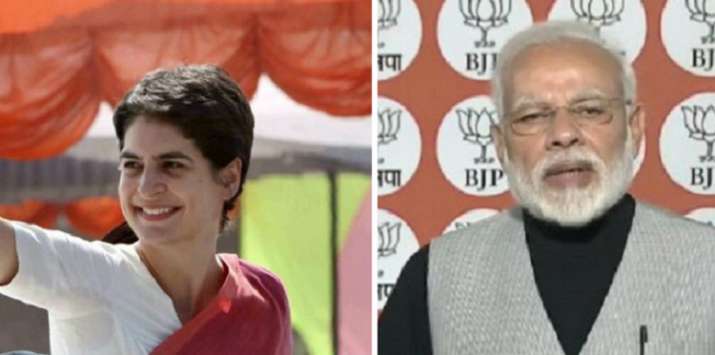 The Congress on Wednesday named Priyanka Gandhi Vadra as general secretary for Uttar Pradesh East - a move which is being seen as a desperate attempt by the party to galvanise its workforce just a few months ahead of the crucial Lok Sabha elections 2019. Announcing his sister's plunge into politics, Congress president Rahul Gandhi even issued a warning for the Bharatiya Janata Party (BJP) and said that he has not sent Priyanka to UP 'just for two months'. 
"I have not sent Priyanka and Jyotiraditya (Scindia, who has been made general secretary for UP West) for just two months. I have sent them to take Congress' ideology forward in Uttar Pradesh. Our ideology of standing and fighting for the poor, for the youth, for the farmers.There will be new thinking, new ideology in Uttar Pradesh," Rahul Gandhi, who is currently on a tour of his constituency Amethi, told reporters. 
Political experts believe describe the Congress' move as a bold one as Uttar Pradesh East comprises Lok Sabha seats of Prime Minister Narendra Modi and state chief minister Yogi Adityanath.
Priyanka's sudden elevation triggered a sharp response from the BJP which described it as acceptance of Rahul Gandhi's failure. Prime Minister Narendra Modi, in a veiled attack, stressed that 'dynasty politics' was forte of the Congress. 
Interacting with BJP workers in Baramati, Gadchiroli, Hingoli, Nanded and Nandurbar of Maharashtra via video conferencing, PM Modi said that in BJP is the party which is like a family.
भारतीय जनता पार्टी कार्यकर्ताओं की पार्टी है, कार्यकर्ताओं द्वारा बनाई गयी पार्टी है और देश के लिए समर्पित पार्टी है।

अगर कोई पार्टी है जो वास्तव में लोकतांत्रिक सिद्धांतों का पालन करती है तो वह भारतीय जनता पार्टी है, लोकतंत्र हमारे संस्कारों में है : पीएम #MeraBoothSabseMazboot pic.twitter.com/4789JpQv3s

— BJP (@BJP4India) January 23, 2019
"Hamari party main Koi bhi nirnaya iss baat se nahi hote hain ki ek vyakti ya ek parivaar kya chahta hai, aur isliye kaha jata hai ki desh main zyadatar cases mein parivaar hi party hai, lekin BJP main party hi parivaar hai," PM Modi said
Senior party leader and Union Minister Ravi Shankar Prasad also questioned why Priyanka, 47, was given a 'limited' role.
"Priyankaji has become General Secretary, my good-luck to her. Since party is a family concern, these kinds of postings are nothing unusual, except to say with a caveat, why she has been given limited role of only Eastern UP? Perhaps her persona merited a wider role for her," Ravi Shankar Prasad said.
"Congress has made public announcement of Rahul Gandhi's failures with this announcement. This is just a party restricted to a family," BJP spokesperson Sambit Patra told reporters. 
Party workers speculated that Priyanka Gandhi  may contest the polls from her mother Sonia Gandhi's constituency Rae Bareli.
Many in the Congress said her entry will infuse the much-needed fresh energy in the party workers of the state, where Congress influence has been waning over the years and where the Samajwadi Party and the Bahujan Samaj Party have announced a tie-up.
WATCH: Priyanka Gandhi finally takes the political plunge
(With inputs from agencies)